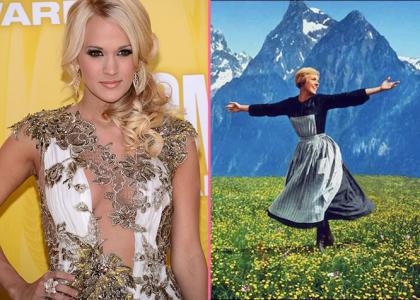 Although nothing should surprise me anymore, I was fairly amused when I read this news on Facebook today. CNN Reports:
Raindrops on roses, whiskers on kittens and Carrie Underwood as Maria?
On Friday, NBC announced its plans to air a live broadcast of "The Sound of Music," starring Underwood as Maria, based on the original musical.
The three-hour telecast is expected to air sometime during the 2013 holiday season.
"Speaking for everyone at NBC, we couldn't be happier to have the gifted Carrie Underwood take up the mantle of the great Maria von Trapp," NBC Entertainment Chairman Robert Greenblatt said in a press release. "She was an iconic woman who will now be played by an iconic artist."
Grammy Award-winning Underwood follows in the footsteps of actress Julie Andrews, who played the role of Maria in the iconic 1965 film.
"To have a star like Carrie Underwood perform Maria in 'The Sound of Music' …. click here to continue reading the CNN article
and click below to hear Carrie sing "The Sound of Music" in 2007:
I think I have a right to comment here as some one who saw the "Sound of Music" movie in 1965 (and numerous times on video and DVD), read the books (including the un-glossed titles by Maria von Trapp), visited the Trapp Family Lodge in Stowe, VT, and took the Sound of Music tour in Salzburg, Austria – it lasts four hours and they play "The Hills are Alive" when you drive from Salzburg up to Moon Lake where they filmed the kids climbing the trees and the church where they shot the wedding scene. Playing the song was really corny (and the driver told us that Austrians are really tired of the film showing every Christmas on TV) but visiting the different sites around Salzburg was really nice. Salzburg and environs is beautiful and the tour is like a pilgrimage at least for nuns and Japanese tourists. At any rate, it's a little challenging to imagine anyone play Julie Andrew's Maria effectively on screen although I think American Idol winner Underwood has a wonderful voice and certainly could do it on the stage.
And here's the thing: NBC is producing the Broadway version of "The Sound of Music" as a three-hour TV special. It doesn't seem they will try to reproduce Julie Andrew's on screen performance. In this case, I think Carrie will do a very good job. She certainly has the pipes!
I never did get to see the Broadway version of the musical so this will be an opportunity to do so, though TV is never like the theater. It's totally different.
No word yet on other cast members.