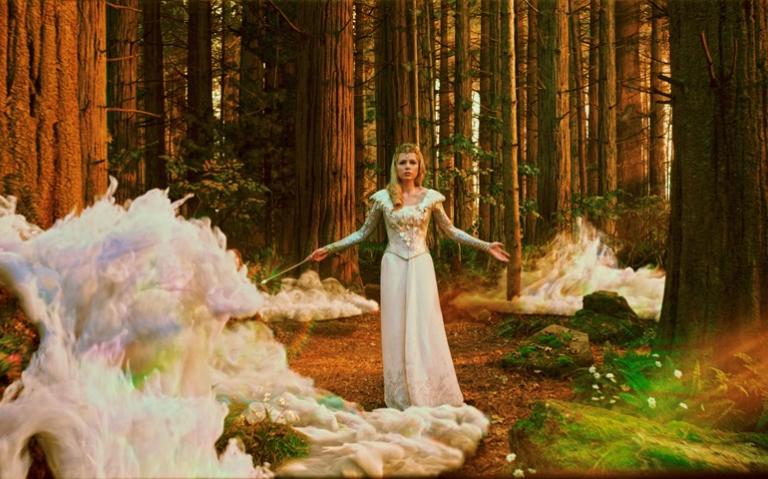 "Oz the Great and Powerful" opens with Oscar "Oz" Diggs (James Franco), a self-centered small-time carnival magician and would-be ladies' man in Kansas more than a century ago. He tries to woo young women by including them in his shows, just as he tries to con the meager profits out of his assistant, Frank (Zach Braff). As the show is about to begin, Annie (Michelle Williams), perhaps the one woman Oscar truly loves, comes to tell him another man has asked her to marry him. She tells Oscar she knows he is a good man. He replies he doesn't want to be good — his father was a good man, a farmer who died in his fields. Oscar wants something more: greatness, like Harry Houdini.
As a tornado bears down on the carnival and with the strongman of the circus angry at him for flirting with his wife, Oscar escapes in the hot air balloon with his satchel of tricks and is sucked into the vortex. He lands in a wonderland, Oz, and is discovered by Theodora (Mila Kunis), a witch who believes Oscar will restore the kingdom of Oz left bereft after the Wicked Witch killed her father. On their way to the Emerald City, Oscar rescues a chatty monkey, Finley (voice of Braff), from a lion. After, Finley swears everlasting fealty to Oscar for saving him.
Once at the Emerald City, Oscar meets Evanora (Rachel Weisz), Theodora's sister, who doubts Oscar is the new wizard and sends him on a quest to kill the Wicked Witch before he can take possession of the piles of gold and the power as the wizard of Oz. On the way, he meets and glues back together China Girl (Joey King), whose town and family were destroyed by the Wicked Witch and Glinda the Good Witch (Williams).
This band and a ragtag coalition of farmers, tinkers and Munchkins must overcome the Winkies (members of the Wicked Witch's army) and the flying baboons so Oscar can become the wizard and re-establish peace in the land.
Disney's "Oz the Great and Powerful" is based … click here to continue reading about the many themes in the film that families and catechists can talk about at my blog at the NCReporter