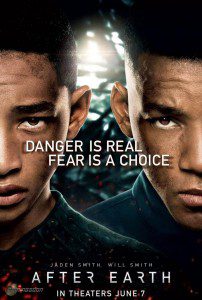 A thousand year's after human activity has destroyed the earth, humans have made a home for themselves on Nova Prime, a planet outside our solar system. Kitai (Jaden Smith) is in training to be a member of the Ranger Corps like his father, General Cypher Raige (real life dad Will Smith). Kitai, who bucks authority, lives with his mother, Faia (Sophie Okonedo) as they wait for the General to return from his many journeys. Kitai wants to earn his father's love and is crestfallen when he is not promoted to "ranger" before his father comes home for a visit. He's judged to be good in the classroom but is not yet ready for the field.
A few days after the General comes home he prepares to leave on a training mission. They rangers have a caged creature with them that they will battle to train themselves to overcome fear by "ghosting", a disciplinary mind technique that hides the rangers, or any human, from threats by wild animals or aliens. We learn that Kitai is burdened with guilt for something that happened a few years before, something he thinks was an act of cowardice when he was doing what he was told. Obedience is not his strong suit.
At the last minute, Faia convinces the General to take Kitai with him. On the way the ship runs through an asteroid storm and crashes onto earth, now a contaminated climate-challenged environment that humans cannot survive without help to breathe. The ship splits in two and the General is severely injured. The crew is dead. Kitai must make a three day journey on his own to retrieve a device from the tail of the ship so they can signal for help.
"After Earth" is directed by M. Knight Shyamalan (The Sixth Sense; Signs) and he has not lost his touch. The film is just right; it's not so over-produced that the special F/X take the place of a real story of the hero's journey. This is about a father and his son, it's about courage and is a meditation on overcoming fear. The rangers are taught, when they don't know what to do next, to "take a knee" and be silent; to listen, to look and discern what to do next. The story is thoughtful and takes its time – while giving the audience a few surprises along the way.
The theme of the earth's destruction cannot be ignored, nor the thousand years that have passed since the General's favorite story and book was published: "Moby Dick" (Herman Melville, 1851). The ancient "book" is a museum artifact and a link between the General's family past and present, as well as the earth from before and the present day because even before humans became dependent on fossil fuels, whales were becoming extinct. But the film had almost ended and I thought, how strange, Shyamalan and co-writer Gary Whitta (a video game designer who wrote post-apocalyptic script for "The Book of Eli") didn't bring the story full-circle – and then they did. At the end, there is hope for the earth though "After Earth" is a prophetic warning that if we don't "take a knee", pay attention and make changes now, even a thousand years won't heal the damage we have done to our world.
"After Earth" is Jaden Smith's film and young people will like it. Fans of Will Smith, well, we all love Will Smith. And though he spends a lot of time laid up, he is a really good dad; he never lets go. Jaden, well, the apple doesn't fall far from the tree. He is walking in his father's footsteps and showing his acting chops in very credible ways.
Why did I really like this film? It solved every single dilemma with brains, communication, family, martial arts and a sword thingy (a cutlass), it's a thoughtful, interesting story, and not one single gun.
Bravo.