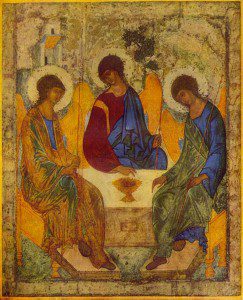 A few years ago, in early 2006, Jonathan Bock, the president of Grace Hill Media, a firm that markets major motion pictures to the faith audience, arranged for a panel presentation about Christianity to both the Los Angeles and New York administrative and creative support teams for New Line Cinema. New Line Cinema had just signed on to produce "The Nativity Story," and there was interest in making sure everyone involved understood what this story would mean to millions of viewers. Jonathan asked senior pastor the Rev. Mark Brewer of Bel Air Presbyterian, the Rev. Erwin McManus, pastor of Mosaic Church in Hollywood, and me to be on the panel. Jonathan, himself an elder at Bel Air Presbyterian, was the moderator, and he used the Apostles' Creed, line by line, to frame what became a wonderful conversation about Christianity with people of differing faiths, no faith, and some Christians as well.
Now, seven years later, New Line Cinema is a shadow of its former self since merging with Warner Bros. in 2008. Sherwood Pictures, a ministry of Sherwood Baptist Church in Albany, Ga., has made some strongly Christian films that have earned decent box office receipts for such small-budget films with mostly amateur actors, such as "Fireproof" in 2008 and "Courageous" in 2011. Pure Flix Entertainment was co-founded about 2008 by country singer Randy Travis and his former wife and has produced films that may be squeaky-clean but have not moved beyond their narrow Christian focus.
This is not to disparage efforts at making Christian films, though most have a long way to go in trusting their audiences to "get it" without a direct infusion of literal teaching and Bible quotes. They do not seem to realize that mainstream cinema is not a Sunday school lesson. Look at what Mel Gibson achieved with "The Passion of the Christ" in 2004 — a work of art that did not escape controversy, however.
But on Trinity Sunday, the week after the Feast of Pentecost, I thought again about the Apostles' Creed because it keeps coming up.
Click here to continue reading on my blog at National Catholic Reporter.