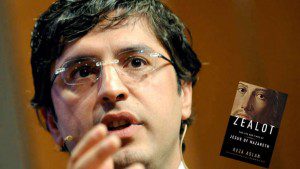 About two weeks ago I had the opportunity to interview Reza Azlan author of the new best seller "Zealot: the Life and Times of Jesus of Nazareth." Now with the Reza Aslan interview trending on Fox News, here's my complete interview in nine parts!
Today, August 2, 2013, The Raw Story published an article about my interview with Raza Aslan with a partial transcript of one of the segments.
I think my favorite segments are when Reza talks about the new pope and the preferential option for the poor in Part V and what he learned by going to a Jesuit university in Part VII
Part I An Obsession with Jesus
Part II  Who's Your Audience?
Part III  Jesus – Truth or Inspiration?
Part IV Choosing Islam and Seeking truth
Part V  The New Pope
Part VI  The Audience of the Gospels was Non-Jews
Part VII  Jesuits, Justice and Jesus
Part VIII  My Sources
Click here: unable to embed
Part IX What's Next?
Click here: unable to embed
You can also download a free app for "The IN Network" free from the App Store (It was just launched today for the feast of St. Ignatius of Loyola!)