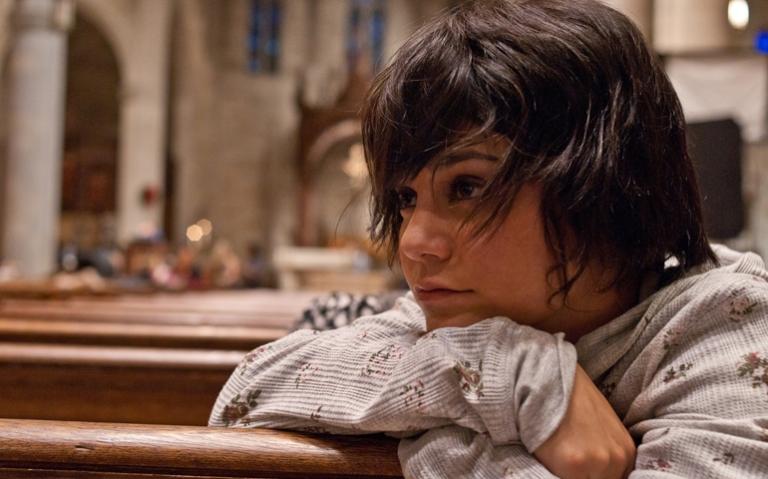 Agnes "Apple" Bailey (Vanessa Hudgens) is 16 years old and living on the streets of New Jersey, but it could be Anyplace, USA. She is now homeless, hungry and pregnant. Apple has been in the foster care system and was in the custody of her drug-addicted mom, June (Rosario Dawson), but, unable to take her mother's abuse, she has run away to search for her biological father. His name is Tom Fitzpatrick (Brenden Fraser), he's a Wall Street broker, and Apple has never met him.
Tom, his wife, Joanna (Stephanie Szostak), and their children live in a luxurious suburban home. Tom is genuinely shocked to meet Apple. He is torn about her staying. They finally tell Apple she can stay, but neither want her to keep the baby.
Apple is totally alone and an emotional mess. She gets into a car accident and meets a priest at the hospital, Fr. Frank McCarthy (James Earl Jones), who tells her about a shelter where she will be welcome, no questions asked.
Although it is difficult for Apple to trust anyone, she decides to stay at the shelter. The housemother is Kathy (Ann Dowd), who founded the shelter many years before. All the young women there are pregnant, and it takes a little while for them to accept Apple. But one day, when June shows up, angry and abusive, demanding that Apple return to her custody, the girls step in to protect Apple. They have become a family. But Apple's journey is not over yet.
"Gimme Shelter" is based on a true story of one young woman at one of the Several Sources Shelters founded by Kathy DiFiore in the early 1980s after spending some time homeless following the end of an abusive marriage.
Hudgens looks like a starving waif in the film. It was impressive … CLICK HERE TO CONTINUE READING my review over at National Catholic Reporter.