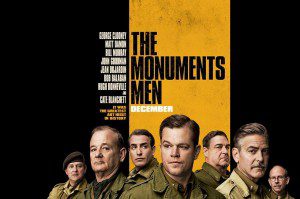 Here's my review for "The Monuments Men" at The INNudstry with Sister Rose on the INNetwork:
This is my written review at The National Catholic Reporter
The plot for filmmaker (director, co-writer, co-producer, lead actor) George Clooney's newest film is at once simple and complex as well as intriguing. The promo lines for the film say that "The Monuments Men" is about the greatest treasure hunt in history, but it's so much more than this. It's about culture, justice, art, war and the lives of millions of people who perished because Hitler and his Nazi thugs wanted to wipe them and their culture off the face of the earth. It's about a few hundred men and women from the Allied countries who left their careers in the arts, academia, and the museum world during World War II to find, save, protect, preserve and ultimately restore the stolen art of Europe to its rightful owners or their heirs.The film is based on Robert M. Edsel's 2010 book The Monuments Men: Allied Heroes, Nazi Thieves and the Greatest Treasure Hunt in History. After I saw the film, I started reading the book. It's detailed and fascinating, and it soon became clear why the film doesn't delve deep enough into this human tragedy and cultural catastrophe that we know so little about. There is so much to this story that Edsel had to write a second book to cover it all: Saving Italy: The Race to Rescue a Nation's Treasures from the Nazis. I hope this book forms the basis for a sequel to "The Monuments Men."
In the film, names have been changed and some of the characters given flaws "for story and entertainment purposes," according to Clooney. Overall, nine characters represent the Monuments Men, which by the end of the war included about 400 men and women from 13 nations. The story opens with Frank Stokes (Clooney) telling officials in Washington about the need to protect the cultural artifacts of Europe in hopes of putting together what would become a mostly middle-aged team of experts who could do this work. He already knows whom he wants on his team, and he goes to work to recruit them once Washington approves the plan.
The new units need to move fast so they can get ahead of the steady movement of the Allied forces in France, Belgium and Germany that had no guidance against destroying what crossed their path. James Granger (Matt Damon) tops Stokes' list, followed by … CLICK HERE to continue reading my full review at the National Catholic Reporter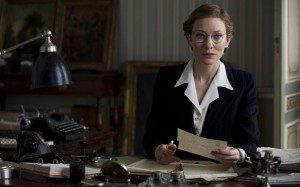 Cate Blanchett stars in "The Monuments Men." (© 2013 Columbia Pictures Industries, Inc. and Twentieth Century Fox Film Corporation.)