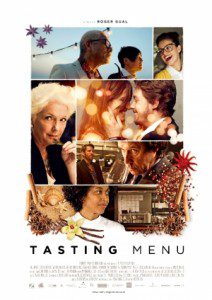 Of all the possible genres and subgenres of cinema, my favorite is that of "food." If you ask most authentic food movie aficionados they will head their list of favorite food films with "Babette's Feast" "Big Night" and for me "Pieces of April" "Mostly Martha" and "Ratatouille."
Now director Roger Gaul is serving up his version of a food movie but I fear, in fact, I am certain, it will never be a classic. It's about a Spanish restaurant, on the gorgeous Costa Brava, on its last night. The chef, Mar (Vincenta N'Dongo) has decided to close her successful restaurant and this last night, the last meal, is supposed to be the pièce de résistance. Mar wants to go out on top.
But everything is so lacking in generosity; Mar refuses the invitation and pressure from Japanese investors to open a like restaurant in Tokyo. It seems as if the spark has gone out of her creativity and we never find out why. There is concern that one patron (Stephen Rea) is an under cover food critic but who cares? It's the last night anyway.
Food movies are not about food; they are about the dynamics and drama between people. They transcend daily life; there is a spiritual dimension. Although we meet several different characters from a variety of backgrounds in "Tasting Menu", some suffering from loneliness and others with troubled relationships, we never get close enough to care. And we never get to visually savor the dishes that are prepared. Food gives life, it changes people. Remember what Primo said in "Big Night"? "To eat good food is to be close to God."  There's none of this in "Tasting Menu."
This is supposed to be a comedy but something got lost in translation (Mostly in Spanish with English subtitles).
There's a spark missing in "Tasting Menu" and I don't know where to go to find it. But if someone would send me on a trip to the gorgeous Costa Brava, I would commit myself to searching for it.