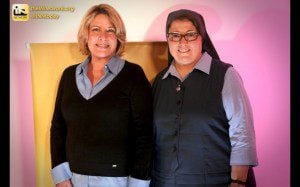 This is a "guest post" x two actually because it is my friend and Catholic media colleague Jesuit Father Eddie Siebert's weekly column for the National Catholic Reporter online and I want to share it here.
The article explores faith-based programming and people of faith working in TV and film. Eddie features an interview I had with writer/musician/producer and show creator of such favorites as "Judging Amy," "Joan of Arcadia." and now "Madam Secretary".
Enjoy!
______
"Faith-based vs. faith-filled in Hollywood: Is there a difference?"
Guest post via NCROnline by Fr. Eddie Siebert, SJ
Have you noticed how much Hollywood seems to be into spirituality these days? I'm not talking about those paparazzi photos plastered all over the tabloids of Gwyneth and Madonna walking into the Kabbalah Centre or promotional videos of Tom Cruise talking about his devotion to Scientology.
No, in a turn of events, Hollywood has embraced the Judeo-Christian model — well, at least financially. Executives are paying close attention to facts, like "Noah" made $86.7 million domestically and $162 million internationally. The trend doesn't end there: "Heaven is for Real," "Son of God," and "God's Not Dead" join "Noah" in surpassing the coveted $50 million domestic ticket sales mark. And look for the remake of "Exodus," starring Christian Bale as Moses, which will be released at the end of the year. As veteran film/TV reporter Anita Busch wrote on Deadline (the go-to business blog about Hollywood), "What Hollywood is learning from these type of films is that with the right budget and the right marketing, they can be extremely profitable."
We all know the film industry is first and foremost a business. But I've been wondering about the spiritual implications of these business decisions. Sr. Rose Pacatte, resident media expert nun for NCR and the IN Network, gave me her take on the faith-based movement.
"It's very evangelical and Protestant, and as far as I can tell, the only reason Hollywood is interested is because the 'genre' seems to be a money-maker," she said. "I would be very surprised if anyone came to faith through these films, which are mostly sermons; I have yet to see one that reaches the level of art … These films just give answers and don't deal with the questions."
Of course, Sister Rose says there are exceptions to the rule. She reviewed "Noah" as "quite brilliant," and she liked "Heaven is for Real" and noted its lack of "preaching." I've been in pitch meetings with many of the faith-based companies responsible for these films, and I often get the impression they're more interested in biblical adaptations than original content raising spiritual questions — questions, perhaps, deemed "too liberal" for the audience that faith-based companies are targeting. It puts a company like Loyola Productions in a bit of an awkward place. We're often seen as too conservative by mainstream production companies and, paradoxically, too liberal or Catholic by faith-based companies.
Now, I'm not saying these executives are anti-Catholic on a personal level. Rather, I think they're thinking from a bottom-line perspective and simply don't consider there to be a Catholic audience as profitable as the evangelical one. I'm not sure I buy that assessment, but I do know … CLICK HERE TO CONTINUE READING