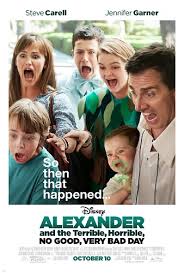 Alexander Cooper (Ed Oxenbould) is eleven years old and he is always having bad days. He loves to study about Australia but the geography teacher assigns that country to another student, leaving him disappointed. It's just another bad day. It's also the day before his birthday and things are not going well for anyone in his family. His mom, Kelly (Jennifer Garner) works for a publisher and a glitch in the launch of a new children's book threatens her career. His dad, Ben (Steve Carrell), has been out of work and finally has a job interview lined up that is like none other.
Ben is perpetually optimistic, though, and it annoys Alexander. His older brother, Anthony (Dylan Minnette) ends up wearing a powder blue tuxedo to the prom and his high maintenance girl friend is not impressed. His sister, Emily (Kerris Dorsey) has a lead in "Peter Pan" but comes down with a cold and over doses on over-the-counter cough syrup. She flies through the air and lands on a scenic wall. Captain Hook never has a chance.
Back to Alexander. He discovers that all the boys he invited to his party are now going to a party for another kid who plans his a week early just to annoy Alexander. Alex becomes more dejected but as more things go sideways for the rest of his family, especially his dad, who is a perpetual optimist, Alexander starts to see the bright side.
I can't give any more details of the story or I will give away the big reveal when everyone gets home after a very crazy day. I never expected that!
"Alexander and the Terrible, Horrible, No Good, Very Bad Day" is based on the very popular, and very brief, 1972 children's book by Judith Viorst. The filmmakers have extended Alexander's bad day to the whole family that results in a 90-minute film that is fine for the whole family, though I think that the younger kids might enjoy it more than, say, anyone over twelve.
I liked the way the kids choose their less-than-perfect, slightly embarrassing family, over friends. Their obvious affection for one another is also refreshing, even when Anthony almost totals the car during his driver's test that they really should have rescheduled.
There is some improbable peril in the film that will probably scare parents but make kids either laugh or look on in awe.
And by the way, the birthday party works out and is one for the record books.
Since I have never read the book I don't know how the film compares to it, but Ed Oxenbould does a fine job of playing a wry little kid dealing with a "bad day" in a caring, and unintentionally whacky, family. We all know what it's like to grow up in a family that is at least a little weird – and we've all had a bad day.