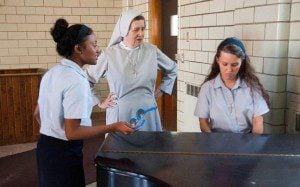 From left: Eseni Ellington, Sr. Beth Ann Dillon, and Claire Halbur in "The Sisterhood: Becoming Nuns." (Scott Gries)
Lifetime's latest original series, "The Sisterhood: Becoming Nuns," is a six-parter about five young Catholic women who are supposedly discerning whether or not to become nuns — or, better and more accurately, sisters or women religious.
While all nuns are sisters, not all sisters are nuns. But let's not be picky.
There has always been and probably always will be much curiosity about the convent or monastery, how sisters live together, grow spiritually, and together carry out apostolates or, as most people like to say today, ministries. In church lingo, however, the clergy engage in ministry, and men and women religious carry out apostolates. But let's not be picky. The homogenous audience created by reality TV shows probably won't care.
The first thing a thoughtful viewer will keep in mind is that "The Sisterhood" is a "reality" series that really isn't. While perhaps not scripted, the scenarios are deliberately constructed, the crises are set up in "Survivor" mode as if a competition is in play, and someone will "go home"!
Here are other things I noticed that are not real about "The Sisterhood: Becoming Nuns": You don't just cast a net and bring in women to discern whether to become nuns. Women usually research communities and choose where they will visit to learn about the religious community first. Or perhaps they will meet a sister and follow through with correspondence or a visit. This show is a glorified speed-dating version of a "Come and See."
This year, for the first time, a young woman entered my congregation, the Daughters of St. Paul, after having first encountered our community's Facebook page. She has made retreats with us, lived and worked with us and paid off her college debts, and it has taken about three or four years. I don't know all the details because a young woman's discernment process is something very individual, personal and private.
These five women in "The Sisterhood" do go through some of the same things …
CLICK HERE to continue reading on my blog at the National Catholic Reporter