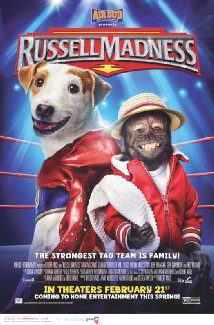 "Russell Madness" will be released direct to DVD on Tuesday, March 10. The film comes from the kid and family friendly imagination of Robert Vince and Anna McRoberts who brought us the "Air Bud" and "Buddies" franchise. Russell, a talking dog, lives in a pet store in Portland OR with other puppies. Russell is very cute but no one wants to adopt him because he has a bad habit of peeing on anyone who picks him up. He doesn't mean to, but oh well.
When he gets too big another puppy tells him that he's going to the dog pound because no one wants him. To save the dog, one of the shop attendants adopts him but comes back to find that Russell has run away.
The Ferraro's return to Portland to take over a 1980s WWE-style wrestling arena they inherited from dad Nate's (David Milchard) grandfather.  The stipulation of grandpa's will is that the arena has to turn a profit within a year for the family to keep it. So the family moves into the residence upstairs and then begins to cleanup the house, planning to attract some awesome wrestlers.
But the building is inhabited by a talking monkey (Crystal the Monkey) in costume, Hunk. Hunk belong to grandpa and is a kind of boss and trainer with lots of experience. Russell joins the Ferraro family and when the shows begin, everyone discovers that Russell has great talent – wrestling, especially tag team wrestling
As director Robert Vince explained at the press day for the film, you have to suspend disbelief to enjoy this "action adventure" movie that will delight little kids especially. Vince says that they set out to make a family film that is more than cause and effect, but one with a story and a message: The strongest tag team is family!
You never know how many injuries come from entertainment wrestling and there's a lot of wrestling here, well pseudo wrestling with all the moves. As an adult I know it's pretty much goofiness, especially when you add in animals which means special effects. But there is always the "cartoon issue" that is now essential to video games: violence (roughness), or perceived violence, with no consequences. The film has a PG rating for "rude humor and sports action."
Another issue for me is the use of wild animals for entertainment which I have written about in my reviews of movies that deal with taking animals from their habitats. I am against this so I remain conflicted in this case. I confess (it's Lent) that I was very curious about meeting Crystal the 21-year old capuchin monkey who has
starred in more movies
than many actors. So below you will find a little video with Crystal sitting on my shoulder and I think this is where she gives me a kiss. Crystal must have a good life because her owners surely do! I didn't make it to meet one of the four cute "Russells" who starred in the film (Brightly" is shown below in the videos.)
"Russell Madness" is a small budget film with a good heart and is considerably better than the boring "chainlink" high budget animation films that are all show with nothing to say except maneuver you into the nearest toy store. "Russell Madness" will make you smile and give you and your kids lots to talk about. There is a reel of bloopers on the DVD, too, that will add to the experience. (A note: When I told a Jesuit priest friend about the film, that it came from the director of the Air Bud movies, he said that he has them all! That he – and his dog – had seen them all! Now that made me really laugh out loud!)
https://www.youtube.com/watch?v=www.youtube.com/watch?v=Ur6XdaGNlTY
Here the director introduces Crystal and David Milchard talks about working with Crystal taken by me at the press day:
About using the animals in the film:
A kiss from Crystal: