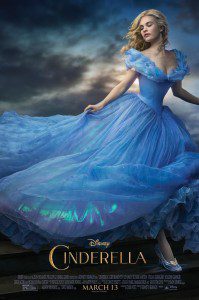 OK, so I got distracted. Remember the brilliant scene from "The Devil Wears Prada" when fashion editor Miranda Priestly (Meryl Streep) gives a lecture to fashion magazine newcomer Andy (Anne Hathaway) about the pile of stuff that her lumpy take-yourself-too-seriously-to-care-what-you-put-on-your-back cerulean blue seater came from? Here's the clip if you don't recall:
Anyway, was I was watching these stunningly colorful previews from Disney and director Kenneth Branagh's new "Cinderella" coming out this Friday, I thought, on my! She is wearing cerulean blue! (At least it looks like it to me!) Will this color scheme follow the same path that Miranda outlines in "The Devil Wears Prada"? Certainly all the movie merchandise will bear the same color, but will fashion follow as well? From Nordstrom trickling down to Target? Or just Target? Check out the long trailer for "Cinderella":
The theme of "Cinderella" is "have courage and be kind" and this is praiseworthy. I won't be able to see "Cinderella" until next week because I will be at the Los Angeles Religious Education Congress this weekend (and hosting the
Film Showcase
on Friday night the 13th so be sure to come – it's open to the public: Anaheim Convention Center, #201, 7:00 PM.) We'll be seeing previews for A.D. and a new documentary
"It Happened Here"
and speaking with the filmmaker. My review for "Cinderella" will follow in a few days.