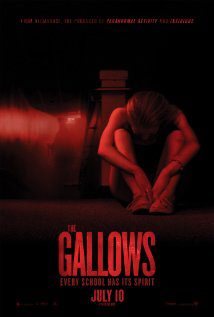 Ok, props to the filmmakers Chris Lofing and Travis Cluff for getting the movie made and distributed. It's proficient. But it's "Blair With Project" hand-held camera style is as annoying as the guy whose hands hold the camera, Ryan Shoos as the bully classmate, well, Ryan Shoos. I only went to see it because my 14 year-old nephew, who is visiting, wanted to see it but I'm sorry we did. It was too graphic and I loathe bullying, especially when there's no redemption anywhere near, just revenge. OK, the bully gets his due, but even a bully does't deserve what he gets here.
Cassidy Gifford, daughter of Kathy Lee and Frank, has a nice camera presence but not enough to save this horror movie that my nephew affirms was "not scary."
About 18 years before, the Beatrice, Nebraska High school put on a play called "The Gallows." When the male lead couldn't make it, the understudy stepped in, something happens, and he is hung. He dies.
But he leaves a pregnant girl friend who shows up, looking spaced out and a little weird, during rehearsals for the new production.
All I will say is that this is a movie about ghostly revenge for something no one intended.
But I confess, I fell asleep and may have missed a better point, if there was one.
My ticket cost $4.75 because I now qualify for a senior discount, even on opening day. But it was still too much to pay for a nap.