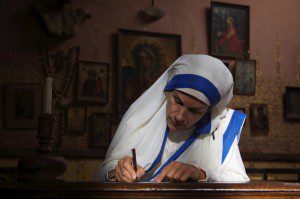 A new film about Mother Teresa, "The Letters", will be released in theaters on December 4, 2015 and stars Juliette Stevenson, Max Von Sydow, and Lutger Hauer.
"The Letters" is a very close interpretation of the 2009 book "Mother Teresa: Come Be My Light" edited by the postulator of her cause for canonization, Brian Kolodiejchuk. Though the film was written and directed by William Riead the film seems to track the book closely. Both are biographical and historical and detail M. Teresa's almost 60-year struggle with interior darkness through her letters (that she had wanted destroyed), something not easy to show on the screen.
Mother Teresa emerges from the film as dynamic and faith-filled even as she experiences and writes of her interior darkness. The film also tells the story of the birth and development of the Missionaries of Charity as a Catholic religious congregation and the inner and outer challenges M. Teresa faced up until the 1960s. Her efforts to discern God's will and to obtain permissions from her superior, spiritual director, local ordinary and finally the Vatican, are heroic and humble. Make no mistake; M. Teresa was no push over.
The most moving part for me, as a religious for almost five decades, was when M. Teresa finally receives approval for her new congregation. This was the moment when the film best shows through sight and sound the inner reality of M. Teresa who was beatified by Pope Benedict XVI in 2003. (It is unclear if Mother Teresa will be canonized in 2016 and recent information on the Internet seems more hopeful than accurate.)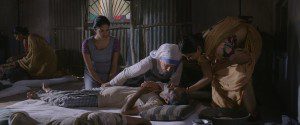 At one point M. Teresa says, "The greatest suffering is to feel alone, unwanted, unloved." This made me think of the late atheist Christopher Hitchens' harangue of Mother Teresa in 1994 and how he questioned her motives and could not understand the simple charity of doing good to the person in front of you, to empathize with the suffering of the poor and do whatever you could to offer a loving response. I wish he were alive to see this film.
This film is very different from the 2003 "Mother Teresa" with Olivia Hussey where M Teresa seems so much a saint already and moves through the scenes in a chronological narrative with virtually no conflict. This new film shows more of the grit and the push back she actually did receive from local people and local church that didn't understand what she was trying to do in the midst of India's surge to independence after World War II.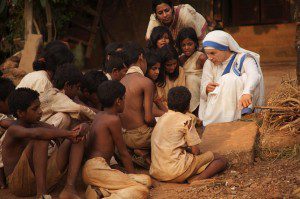 There is a lot of "church-speak" in the sense that conversations take place between M. Teresa and her superior – thankfully only one because in real life she had a local superior, a provincial and a general superior. There are also several clerics to whom she defers in ways that would not resonate well today, but M. Teresa knew how to work the system so to speak, and she did so with persistent virtue and a firm backbone. Wimps don't do what this future Nobel Prize winner would do.
The story is dramatized in believable and inspiring ways and Juliette Stevenson brings M. Teresa to life in a spot on performance. I feel like I know M. Teresa better now.
Click here for more detailed information on "The Letters"
You can also download clips from Wing Clips to use in teaching but as a good teacher you already know you should see the film first before integrating clips into your lessons or presentations. It's the best pedagogy because then you know exactly what you are presenting.
For more on The Letters visit the Patheos Movie Club here.
You have my permission to reprint this in your paper, newsletter or website:
(c) Daughters of St. Paul 2015. Reprinted with permission of the author. See http://sisterrosemovies.net
Please send a link to RoseP@paulinemedia.com