This is the news release that was sent out.

Culver City, CA Sept, 19 – Catholics in Media Associates has announced it's honorees for the 2016 CIMA Awards to be presented at the organization's 23rd annual event on October 9, 2016. All the CIMA Awardees were chosen for their ability to tell stories that transcend daily life in compelling ways and to communicate the true, the good, and the beautiful.
Following the 10:00AM Mass at the Cathedral of Our Lady of the Angels in downtown Los Angeles there will be a brunch followed by the presentation of awards at 11:30AM at the Cathedral Conference Center, 555 Temple Avenue, Los Angeles, CA, 90012. Archbishop Jose' H. Gomez will be the main celebrant of the Mass and will be present at the awards event.
Actor Mark Derwin, known for his roles in "Everest,"  "The Secret Life of the American Teenager" and most recently in Amazon's Bosch, will host the CIMA event for the second time.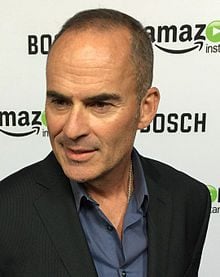 CIMA's Motion Picture Award is presented to "Ben-Hur" an epic reimagining of the classic tale of the Christ for the 21st century. First penned by Lew Wallace in 1880, it is a story that transcends time. It's dominant themes of revenge, forgiveness, reconciliation and mercy blend a powerful human story with the divine. "This is the second CIMA Award for executive producers Roma Downy and Mark Burnett," said Sister Rose Pacatte, current president of CIMA. "They make every effort to bring together fine story telling with the highest production values that inspires and uplifts the human spirit." Their first CIMA Award was for "The Bible" in 2014.
CIMA Television Award is presented to Showtime's "Ray Donovan." "The Donovan's, especially Ray, are a Catholic family of mobsters that struggles with faith and conscience in every episode", explains actor Haskell Vaughn Anderson, vice president of CIMA. "Their flaws, sins, and violence are outward signs of their inner conflict between temptation and the impulse to choose to be decent and caring human beings. Their redemption is in the struggle to choose good over evil, to not give up. Where there is darkness there is also the action of grace in 'Ray Donovan.'"
CIMA's Documentary Award is presented to the National Geographic Channel and Revelations Entertainment's "Story of God" series for it's beautiful, accessible and informative exploration of the story of world's religions through the lens of the nature of God, creation, the after life, miracles, the apocalypse, and the question of evil. "Morgan Freeman is exceptional as the host," said Sr. Rose. "He brings gravitas, intelligence, and humor through the questions he asks. His respect for people of all faiths is a model for us all."
CIMA Communicator Award is presented to Bishop Robert E. Barron
, founder of "Word on Fire" Catholic ministries in 2000. "This is a new award for CIMA and Bishop Barron is the perfect awardee. His media ministry is ubiquitous and meets all the criteria for outstanding work as a Catholic communicator: interesting, accessible, informative." said Sr. Rose. His Word on Fire programs have been broadcast regularly on WGN America, EWTN, Telecare, Relevant Radio and the Word on Fire YouTube Channel. His Word on Fire website offers daily blogs, articles, commentaries and over ten years of weekly sermon podcasts. In September 2015, Barron and Word on Fire Content Director Brandon Vogt started a weekly podcast called The Word on Fire Show. Bishop Barron was named an auxiliary bishop of Los Angeles in 2015.
Another first for Catholics in Media this year is that the event will benefit a student filmmaker from Loyola Marymount University's School for Film and Television with a $2,500.00 scholarship.
Catholics in Media is also recognizing that 2016 is the 50th anniversary of the Catholic Church's World Day of Communication established by the Second Vatican Council in 1963. Pope Paul VI celebrated the first day recognizing the power of communication and media for good in 1967. Pope Francis chose "Communication and Mercy: a Fruitful Encounter" as the theme for this year's observance.
Founded in 1992, CIMA strives to actively encourage, promote, and honor entertainment and media professionals and productions that uplift the spirit and promote human dignity.
The Mass is open for everyone.
For tickets to the brunch and awards event, please visit Catholics in Media website: Catholics in Media Associates Awards (CatholicsInMedia.org).
For more information call 818-907-2734 or email event@catholicsinmedia.org
The entrance to the parking structure is located on the west side of Hill Street and on Temple. ###