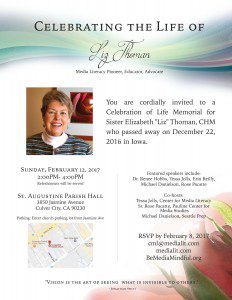 Sister Elizabeth "Liz" Thoman, CHM died on December 22, 2019. She was a media literacy education pioneer, advocate, and educator.
Here is a link to her obituary: Sr. Elizabeth Thoman, Media Literacy Leader Dies
Here is a link to my essay about her, written in gratitude for her life, work, and influence on my life:
Sister Elizabeth Thoman Altered the Course of My Life
To RSVP for the Memorial Service, click here (or copy and paste): cml@medialit.org
If you come, bring a memory to share! Or you can write it here in the comment section and I will forward to Tessa Jolls for a memorial page on the website of the Center for Media Literacy that Liz founded.
Thank you!