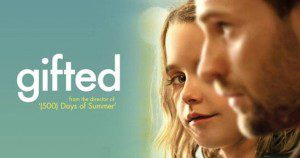 Six-year-old Mary Adler (Mckenna Grace) doesn't want to go to school, but her uncle, Frank (Chris Evans), insists. Their neighbor Roberta (Octavia Spencer) scolds Frank when he returns from taking his niece to school. She's afraid that something might go wrong for Mary, who has never gone to school before. The reason is that Mary is a prodigy in mathematics, as was her mother, who committed suicide when her daughter was only a baby.
In class, Mary cannot resist showing how impatient she is at basic math. Her teacher, Bonnie (Jenny Slade), soon realizes that Mary is exceptional. But one morning on the bus, Mary hits a boy who bullies one of her classmates and ends up in the principal's office. The principal offers Frank a deal: she'll forget the incident if he will let her arrange a scholarship for Mary at a school
for gifted children. Frank refuses because his sister wanted Mary to grow up with friends.
As the principal puts things into motion, Evelyn (Lindsay Duncan), Frank's mother and Mary's grandmother, sues for custody. Young Mary ends up in foster care. This CLICK HERE TO CONTINUE READING at St. Anthony Messenger
I'd just like to add here that this fictional film offers much to talk about when it comes to the role of the mother, her daughter who commits suicide before the events in the film, and how parents try to live their own dreams and ambitions through their children and even their grandchildren. This would be an interesting film even if told through the eyes of the grandmother.
McKenna Grace is a luminous young actress and quite smart. Now in 4th grade she's doing 5th grade math. She and her mom made up songs so she could remember all the math formulae during the film. She also kept Chris Evans laughing during the interview – she's all personality and sweetness.
Chris just let her shine during the interview and it was nice to see.
This kid, in the film, is really smart and asks questions about everything, even a God and science kind of question.
As for Olivia spencer's role: it takes a village to raise a child, A lovely film.