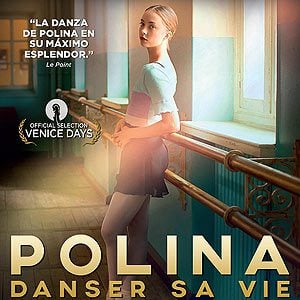 Polina (French title: Polina, danser sa vie)
Somewhere in Russia, Polina (Veronika Zhovnytska and Anastasia Shevtsova) studies ballet with a strict teacher, Bojinski (Aleksei Guskov) from a very young age. She grows up near the cooling towers of a nuclear power plant, in stark contrast to the art she is learning. Her parents, especially her father, works very hard so that Polina may some day dance her way into the Bolshoi Ballet in Moscow.
As a teenager Polina auditions for the Bolshoi and just when it seems her dream, or her parent's dream, is about to come true, she discovers modern dance and young men, especially a French dancer, Adrien (Niels Schneider). Impulsively she decides to go with him to Aix-en-Provence where they audition for Liria Elsaj (Juliette Binoche), a celebrated teacher of modern dance. Liria sees something in the young girl; she is technically brilliant but seems incapable of letting go of her classical ballet training to bring any emotion to modern dance.
Now Polina moves to Antwerp and must work in a bar to pay her way. She does not communicate well with her parents and they worry for her. She discovers Karl (Jeremie Belingard), a choreographer; they end up sharing his apartment as Polina decides what her next move will be as a dancer.
"Polina" is co-directed by Valérie Müller and Angelin Preljocaj. Müller adapted the script from Bastien Vivès 2011 graphic novel of the same title. The film is interesting enough, especially if dance is your focus.
Binoche's role is very small here; perhaps Polina should have stayed with her just a little longer in Provence.
I don't think anyone can criticize the ballet and modern dance performances in the film; they are highy proficient and lovely. To go from a frozen landscape to Provence creates a landscape for the filmmakers to draw their story. What's harder to appreciate is the character of Polina and her struggle to decide what kind of a dancer she wants to be and to bring any kind of heart to it. Anastasia Shevtsova is a professional dancer who has performed with Saint Petersburg's Mariinsky Theatre so she knows what she is about when it comes to ballet. After watching several seasons of the reality competition show "So You think You Can Dance" I found her efforts to move from the classical to contemporary dance rather stiff. It's true; about all I can do is the Macarena but I can appreciate beautiful dance.
If a young person is on this same creative journey of artistic self-discovery as Polina, the story may resonate well with them, especially taking a chance and risking everything for what your heart tells you is your vocation. I just didn't find Shevtsova's performance very nuanced or – warm. I couldn't feel her distress. Perhaps if there had been more dialogue written for her character or if her feelings could have been externalized better it could have made a difference.
At the end of the day, perhaps this is more a story of the loneliness of the long distance dancer and the incredible work it takes to make it as an artist.