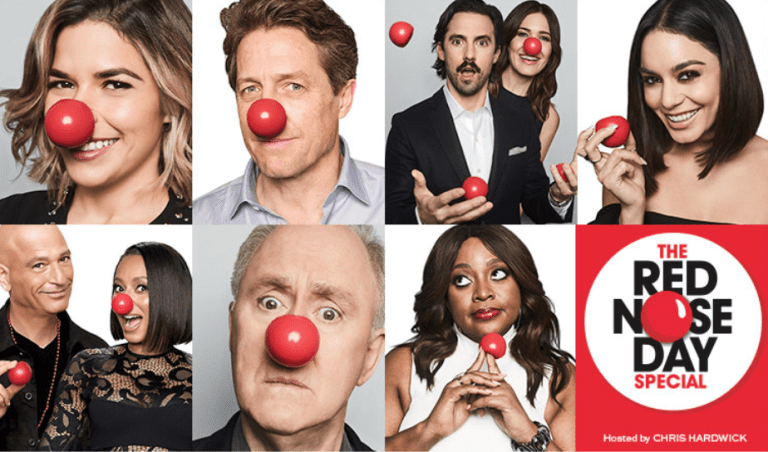 Red Nose Day – Celebrities, Organizations – All Of Us Can Help End Child Poverty
I am pleased to share this good news with you for Red Nose Day! A big thank you to Grace Hill Media and all the work they are doing to promote this good cause: to held end child poverty. Read on….
Some of the biggest names in both film and television, including the cast of the beloved holiday film "Love Actually" are all putting on red noses this Thursday, May 25 for Red Nose Day.
Red Nose Day is about coming together, to have fun, and make a difference for kids in need. The goal is to end child poverty, here in the U.S. and around the world – one nose at a time.
Starting at 8/7c, a special line-up of television on NBC will air to raise awareness and support Red Nose Day efforts. The line-up includes a celebrity edition of NBC's popular show "America Ninja Warrior." Celebrities such as Stephen Amell (Arrow), Derek Hough (Dancing With The Stars) and Natalie Morales will tackling the obstacle course. This is followed by Academy-Award winner Julia Roberts joining adventurer Bear Grylls for "Running Wild With Bear Grylls For Red Nose Day." To cap the evening, NBC will air "The Red Nose Day Special" featuring numerous celebrities all raising awareness and encouraging people to make a difference.
The highly anticipated ten-minute short reunion sequel to "Love Actually" will air during "The Red Nose Day Special," and from the previews it looks like our favorite characters are back.
The statistics about youth facing homelessness and hunger here in the U.S. is staggering. 1 in 5 children in the U.S. grow-up in poverty. According to the Christian organization, Covenant House, every year, more than 2 million kids in America will face a period of homelessness. Fifty-seven percent of homeless kids spend at least one day every month without food. Additionally, these kids and teens are in danger of human traffickers.
But we can all make a difference!
Fans can support Red Nose Day by wearing a red nose (available at Walgreens), organizing a fundraising event, and watching and donating during the special night of Red Nose Day television programming on NBC on Thursday, May 25.
Organizations and programs that benefit from Red Nose Day include: Boys & Girls Club of America, Save The Children, Feeding America, Covenant House and charity: water.
For additional information about Red Nose Day or to help the cause, please visit:
For more information or to watch previews of NBC's special night of Red Nose Day programming, please go to: http://www.nbc.com/the-red-nose-day-special