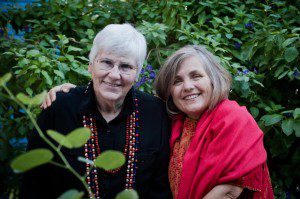 Sister Jaguar's Journey is both a film and a book about the life of Sr. Judy Bisognano. My review was published today over at the Global Sister's Report Blog. It begins:
Judy Bisignano grew up in an abusive home in Des Moines, Iowa. Her father was a good provider, but an alcoholic. Judy's deepest secret was that her mother beat her, almost every day. When her mother hit her, she would strike back in some way.
Her misery led her straight to the Adrian Dominican sisters who lived just five doors down and taught Judy in school. They encouraged her, and she witnessed and absorbed their kindness. She entered the community in 1960 as a way to escape her mother and avoid a marriage like that of her parents at any cost.
Seeing Sr. Judy's film and reading her memoir can be of cathartic value to the senior sisters among us, or to anyone with anger management issues stemming from trauma and who seeks to heal memories. To those considering religious life her story can help one discern her motives for choosing to follow a religious vocation. The film sheds light on religious life in the United States in the 1960s in particular; some of the historical photos and footage reveal details of the bygone era of post-World War II boom experienced by religious communities in the United States.
Yet, she stayed. She kept in mind the gentle sisters who taught her for 14 years and knew that life in the novitiate was not the real Adrian Dominican life. She was attracted to the congregation's response to the civil rights movement and other social issues of the decade. She could not reconcile their social justice ministry with the injustice she experienced during initial formation. The situation added to the anger arising from her family life that she tried to bury.
Not long after she entered the novitiate, Judy complained of double vision. The novice mistress, who must have sensed Judy's resistance to the rules and authority, arranged to have Judy placed in a mental institution for six weeks instead of seeing an eye doctor. It was a terrible injustice by the sisters and doctors to commit an 18-year-old in an asylum where she could not leave. She did everything she could to avoid taking medications and shock treatment that was the treatment norm in the institution. By missing more than 10 days of her canonical novitiate, Judy had to begin the novitiate again.
As she neared completion of her second attempt at finishing the novitiate, the novice mistress sent Judy to the doctor for a physical; she would not be allowed to make profession unless she passed. He found a node on her neck and it turned out to be thyroid cancer; indeed, double vision is a symptom of this disease. Judy had to have surgery and leave the convent, and the time extended over the 10 days allowed. After surgery and now out of the community, she joined the Papal Volunteers and worked in Mexico for a year. She then began college back at home in Des Moines. At the Christmas break, she received a letter from the Adrian Dominicans inviting her back to begin her novitiate again for a third time.
After first profession Sr. Judy was missioned to Tucson, Arizona, where she taught and went to college, earning two master's degrees and a doctorate. She started the Kino School there and for more than 20 years, it was a successful one-room K-12 school on 10 acres of land. The educational methodology was based on that of A.S. Neill's Summerhill that viewed learning and life as one. Yet, after a child was kidnapped from the premises (later found unharmed), Sr. Judy was willingly "fired" by her own board; someone had to take responsibility for what had happened.
She went on to found the Cesar Chavez Learning Center, a charter school that gave older students skills as it raised their reading scores from primary to high school levels. The school district was displeased because students were not passing the standardized tests. She brought in a communications specialist, Sandra Morse, to work with her staff on collaboration. Morse quickly observed that the staff was fine; Sr. Judy was the problem.
Sr. Judy's life of accomplishment was constantly subverted by her own actions. She was perpetrating on students and staff her unresolved anger stemming from childhood trauma that had been reinforced in her early formative years in religious life on students and staff.
The first time I watched the 20-minute documentary "Sister Jaguar's Journey" I wept. I cried for Sr. Judy's pain and for some of my own. Although I entered the convent in 1967, some of the formative methodology was very similar to what Sr. Judy experienced. I can only imagine that others have had similar experiences. Thank God that over the years, as psychological testing became required before acceptance into the community (and therapy sometimes recommended), human formation improved, formators received better training, and Vatican II's teachings were integrated into formation and lifestyle. Religious formation evolved for all communities, some taking more time than others.
This brief documentary film is beautiful, interesting, informative and moving. For those with a romantic idea of convent life, Sr. Judy's story may be shocking. The film serves as an introduction to Sr. Judy's in-depth and most readable memoir, "Sister Jaguar's Journey: A Nun's Ayahuasca Awakening in the Amazon Rainforest," that Judy self-published on Amazon. You can watch the film online for a small fee on Vimeo on Demand via Sr. Judy's website http://www.sisterjaguarsjourney.com.
Click here to continue reading and find out what Sr Judy is doing now: Sr. Jaguar's Journey. Below is the trailer for her film that you can access through Sr. Judy's website.