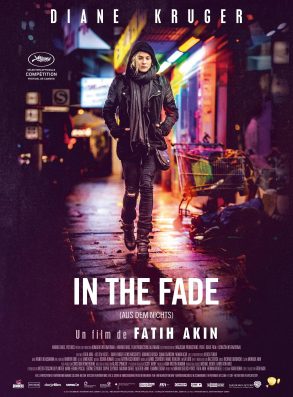 In the Fade (Aus dem Nichts)
-SPOILER ALERT-
Katja (Diane Kruger) is married to Nuri Sekerci (Numan Acar), a Kurdish man she bought hashish from when she was in college and who has done time in prison for drug trafficking. They live in Hamburg, Germany. Both sets of parents were against the marriage but they went ahead anyway. They now have a beautiful young son, Rocco (Rafael Santana) and Nuri has quit the drug trade and owns his own translation and tax business, having earned a business degree while in prison. Katja drops Rocco off at the office one afternoon but when she returns in the evening she discovers that an explosion has occurred killing both her husband and son.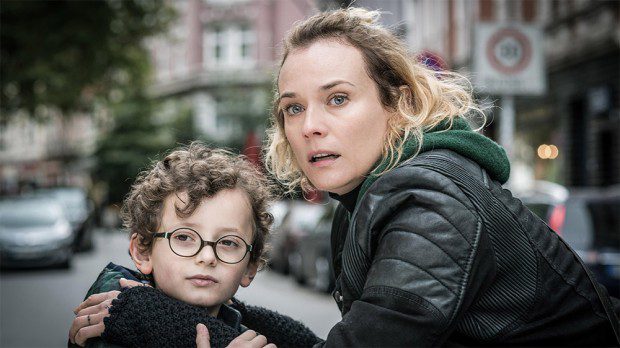 Diane Kroger and Rafael Santana (c) Warner Bros. Germany
Katja remembers seeing a young blonde woman leave a bicycle near the office that was not locked to a bike rack which was odd because the bike seemed new; it also had a black parcel tied to the tandem. Katja, though in complete shock, tells the police what she saw but they believe that Nuri was still involved in drugs and that this was a hit of some kind by traffickers. Katja, however, believes that the attack may have been racially motivated.
Eventually, Katja is proven right. Police arrest a young neo-Nazi couple, André (Ulrich Brandoff) and Edda (Hanna Hilsdorf) Möller. At trial, despite the evidence, the couple gets off and flee to Greece. They are well connected and hidden in plain sight but Katja, who is tormented by the loss of her beloved husband and son, is set on revenge and tracks them down.
"In the Fade" is a riveting film with a heartbreaking believable performance from Kruger, caught between her desperate search for justice and love for her husband and son. Her ultimate choice is understandable but makes her hopeless search for justice all the more empty. Indeed, a literal translation of the German title is "From Nothing" that I think makes more sense than the English title because everybody dies. Justice is fleeting and vengeance is an exercise in nihilism.
Nevertheless, this is a deeply felt and very bleak film that shows the rise of white supremacy and racism worldwide (racist terrorists are not just white in this film) and the desolation and heartbreak it inflicts on innocent people who though flawed, are just trying to live a meaningful life.