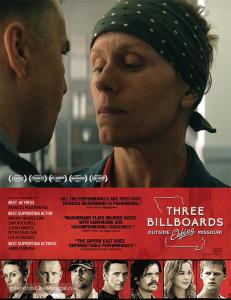 One of the coolest parts about being a film critic is that I can choose the films I liked the most from last year and no one can complain. Well you can, but too bad. Actually, you can make your list, too, and I hope you will do so.
2017 was a brilliant year for cinema. Some people still complain that nothing good coms out of Hollywood. True, some years the pickings are slim, but the 2017 crop is exceptionally fine. I saw at least 85 films last year and the following made my list of the top twelve that I would and will see again and again. I am adding a line or two to explain why. (Check out The Razzie Award nominee list for the worst films of 2017.)
One important factor for me in creating this list is to consider whether or not I would watch the film more than once. (If you won't watch it more than once, why choose it?)
#1 Three Billboards Outside Ebbing, MO – A town is surprised and slowly transformed by the mystery and grace amidst tragedy, anger, and racism. A good man is hard to find but if you actually look there may be more than you expect. (Language alert but it is not without meaning.) Click HERE for my review
#2 Get Out – This gifted director's ability to make me understand white privilege and what it might be like to be a black person in America is simply brilliant. Empathy.
#3 Coco – Beauty and goodness abound in this cultural exploration of family, death, the hereafter, forgiveness and faith. Click HERE for my review
#4 Lady Bird – Family, faith, loneliness are the gentle and very funny growing pains of Catholic schoolgirl Christine who renames herself "Lady Bird" on her way to becoming her true self.
#5 The Florida Project – Human life lived roughly on the fringes that surround the happiest place on earth that highlights a disposable culture make this one of the most socially significant films of the last few years.
#6 Paris Can Wait – A road trip with two unlikely people leads to revelations of deep loss and caring humanity.
#7 The Wedding Plan – An enterprising Orthodox Jewish young woman is dumped by her fiancé but believes that God will send her a husband by the feast of Hanukah. I love this movie.
#8 Downsizing – This film on social responsibility for people and the environment presents an effective challenge to "The Benedict Option." And what does Our Lady of Guadalupe have to do with anything?
#9 The Greatest Showman – Highly entertaining, excellent performances, and singing and dancing by a diverse cast will make you pack your troubles for a little while and be entertained so much you will just have to let go and smile.
#10 The Man Who Invented Christmas – That time when writer's block was a gift to Charles Dickens. This is one of the best films about Christmas to come along in years.
#11 The Shack – Anyone who knows me knows I am not a fan of the Christian film genre that ignores the language of cinema to message you to death with words because the filmmaker thinks you are too dumb to get it. But Gil Netter does it right on every level in "The Shack." If you have suffered the loss of a child or loved one or if you are intrigued by theology, especially the Trinity, suspend your disbelief and see this film.
#12 The Zookeeper's Wife made my list because on the second viewing I saw so much more. Based on a true story of a couple who saved 300 people from death by the Nazis by using the Warsaw zoo as a stage in the underground railroad operated by the Polish resistance during World War II.