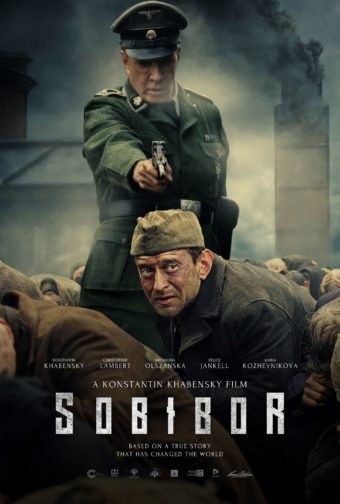 In October 1943, six months after the Warsaw Ghetto Uprising the previous April on Passover, the 600 or so slave labor prisoners of the Sobibor death camp learn the Russian army is beginning to push west against Germany. Located southeast of Warsaw on what it today Poland's border with Ukraine, the mostly male population of the death camp plan a revolt. Led by a Russian officer who is faithful to Stalin, they intend to kill as many SS officers as they can and walk out the main gate.
The prisoners, Nazi soldiers and officers, as well as a prisoner band playing music, meet each train of Jewish men, women and children, as it arrives. The Jews are tired of traveling and more or less easily believe they are going to live and work at this camp. They follow orders. The women, children and many of the men, are told to undress, their hair is cut, and they calmly walked into a "shower" where they are gassed. They are either buried after in mass graves or cremated in large ovens.
Sobibor is a brutal place but the prisoners are smart. Alexander Pecersky (played by Konstantin Khabenskiy who also directs) is an assimilated Jew from Russia. He is a born leader who organizes a prison underground committee made up of Russian and Ukrainian Jews, as well as Russian POWs, to plan the revolt and escape. As the Nazi SS officer Karl Frenzel (Christopher Lambert) torments select prisoners, the prisoners' resolve grows. Although the plan does not work completely as planned, 300 of the 600 prisoners escape. Many are killed or recaptured; some are taken in my Polish families and hidden. In the end, 58 people, 48 men and ten women, are known to have survived.
Sobibor was the fourth largest of the Nazi death camps in Poland. It operated from May 1942 until October 14, 1943 with the ability to kill up to 500 people a day; up to 200,000-250,000 Jews are believed to have perished at Sobibor. After the uprising SS Chief Heinrich Himmler ordered the camp destroyed, buried, and trees planted on top to hide the evidence of Sobibor's existence. Pecersky lived until the age of 80. Wikipedia lists all the survivors and what happened to them after their escape.
"Sobibor" is Russia's 2019 best foreign language film Oscar entry and commemorates the 75th anniversary of the uprising. Beginning on March 29, it will be available on digital/VOD.
The film has very high production values and it's easy to get to know the core cast (including include Mariya Kozhevnikova, Michalina Olszanska, Philippe Reinhardt, and Maximilian Dirr.) The performances are moving and real. The film is even more interesting coming from a Russian perspective. The violence, suffering, death and loss are heartbreaking.