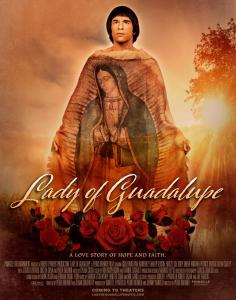 A beautiful new film about the story of St. Juan Diego and Our Lady of Guadalupe premieres tomorrow, Sunday, December 13, on television: Univision (free) and Galavision (Pay TV) at 12noon IN SPANISH. 
The film opened in 200 theaters in Mexico two days ago and is opening today in the following theaters in Nevada and Texas  IN ENGLISH:
America Cinemas Houston – 535 Sharpstown Center, Houston, TX 77036
America Cinemas La Gran Plaza Ft. Worth – 4200 South Fwy #1095, Fort Worth, TX 76115
Galaxy Cannery: 2121 E Craig Rd, North Las Vegas, NV 89030
Galaxy Boulevard: 2121 E Craig Rd, North Las Vegas, NV 89030
The Galaxy Grandscape:  5740 Grandscape Blvd. Ste. 100, The Colony, TX 75056
A wider VOD and DVD release is planned for April 2021.
Based on true events that occurred in December 1531 when the Blessed Virgin Mary (Paola Baldion) appeared four times to Juan Diego Cuauhtlatoatzin (1474-1548, played by Guillermo Iván), an indigenous Chichimec peasant, Lady of Guadalupe recounts this story in a way that celebrates not only the religious significance of this phenomenon but the cultural influence of the apparitions on and for Mexican identity and belief.
The film moves back and forth between the present day and 1531 with Guillermo Iván playing both John, a skeptical reporter, and Juan Diego.  John's editor Mr. Dominguez (Rudy Miera) asks him to write stories with Latino interest and faith, and encourages him to take a class on the subject. We also learn that John met his wife Mary (Kimberly Aria Peterson) while doing research at the library. They are now married and expecting a child.  Mary drops John off at the college where he listens to an expert about the apparitions and their meaning, Father Xavier Escalada (Glenn Craley). Mary continues on to her baby shower. A dramatic event follows that turns John's world upside down. The faith that he didn't know he had is tested.
We then meet Juan Diego and his wife (also played by Peterson) and learn the story of how they and Juan's uncle Bernardino, are converted and baptized Christians. We see how the Spanish conquistadores oppress the people. When Bernardino becomes ill, Juan Diego goes for medicine and on the way encounters Our Lady. She asks Juan to go to the Franciscan bishop and ask him to build a chapel in her honor so that she might help people in their time of need. Juan Diego encounters challenges and his own sense of unworthiness. When the bishop asks for a sign so that he can be sure the message is from Our Lady, she proves it with a miracle that is with us today.
I saw the film while it was in post production and the final cut this past week. The film is a warm, faithful  and ultimately moving retelling of the story (using many actors who are known in the telenovela world!)  I think the parallel modern-day story is well done and gives the original story contemporary relevance. Watching it in this time of Covid-19 is especially comforting.
It is never easy for an actress to portray the Virgin Mary without sentimentality and for filmmakers to imagine her in earthly tones, but this year Joana Ribeiro did it well in "Fatima" and now Paola Baldion accepts the mantle of playing the Mother of God and does it well in "Lady of Guadalupe." The film is directed by Pedro Brenner and co-written by Brenner and Seann Dougherty.