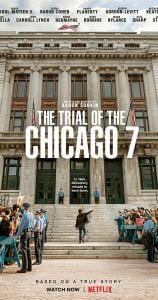 To honor the 51st anniversary of the trial of the Chicago 7, Netflix has announced a Global Watch Party for Aaron Sorkin's film "The Trial of the Chicago 7" starting at midnight tonight PT. For 48 hours this weekend, you can watch by going to the Netflix YouTube Channel
In this Cast Announcement Sorkin and the cast offer brief remarks about the importance of remembering this event and the sacrifices that were made to peacefully protest the injustice of the Vietnam War that day in Chicago and the injustices that followed.
One performance that I would draw to your attention is that of Sacha Baron Cohen who is probably best known for his role as the controversial "journalist" Borat. Here he is the social activist Abbie Hoffman. More than challenging the judge about being tried for an ideology rather than criminal actions, I was moved by the depth of his commitment to his beliefs and sorrow at society's tone deafness, that he communicates physically. The fatigue of his efforts shown in his face is visceral. His performance is remarkable.
Click here for a Podcast about the C7
Click here to explore the "digital book"
Click here for an article about how the events of 1968 shook the world