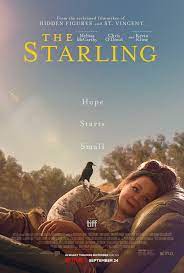 Lilly (Melissa McCarthy) works at a grocery store as a distracted stock person. She seems peculiarly focused on making sure the display of blue snowball snack cakes looks nice and stays upright. The manager, Travis (Timothy Olyphant) reminds Lilly again that there's work to do. But now Lilly is in a hurry to leave to visit her husband Jack (Chris O'Dowd) who is in a mental health facility.
It soon becomes evident that Jack is unable to cope with guilt he feels after their little girl Katie died of SIDS. Lilly is utterly faithful in visiting him and bringing him a brown lunch bag, week after week, a two-hour round trip. Jack's therapist Regina (Kimberly Quinn) asks how she is doing and suggests that she see a therapist, Dr. Larry Fine (Kevin Kline).
At home, Lilly finally decides to give away her daughter's furniture and even the sofa from the living room. She then attacks the dry, overgrown front yard and for her trouble is attacked by a starling. Starlings are birds that mimic the sounds of their environment and generally flock together as a social family unit. Lilly even takes to wearing a helmet to prevent this solo starling's attack but to no avail.
Melissa McCarthy in "The Starling".
Photo (c) Netlix.
When Jack decides he doesn't want Lilly to visit any more, she decides to visit Dr. Fine. To her confusion, she finds out he is a veterinarian – but he used to be a psychologist. They have an interesting first meeting. Lilly is grieving and trying to cope without showing her emotions, but it will soon become all too much when she goes after the starling. As the weeks go by, Jack finally opens the lunch bags Lilly has brought him over so many months, and finds what Lilly's particular kind of love looks like.
Director Theodore Melfi, known for his Oscar-nominated film "Hidden Figures," has taken Matt Harris' screenplay and drawn a three-point drama for us, between Lilly and Jack's home and yard, the mental health facility, and Dr. Fine's office. The main characters are Lilly, Jack, Dr. Fine and the starling. What draws the place and characters together is a grief so deep that Jack can hardly move, and Lilly cannot stop to look inward and deal with her sorrow.
McCarthy and O'Dowd, both known for their comedic talents, are credible as the grieving parents who don't know how to be with each other anymore and their quirkiness as actors adds just enough to their performances to raise the story from maudlin to hopeful. The starling (and the snack cakes) functions as a catalyst to free up Lilly's emotions, and Dr. Fine's for that matter, and show that she is capable of caring for a small creature. Kevin Kline is brilliant and generous in any role, and he gives this unabashedly low-key film his best.
It would have been better if Timothy Olyphant's role could have been more developed and a more developed story would have also upped the complexity – but I am ok with its simplicity. As it is, the film belongs to Melissa McCarthy and Chris O'Dowd. "The Starling" has a great cast that could overwhelm what seems almost like a made-for-television film (which it kind of is: Netflix.) It is a tribute to all the actors that they told a story that is believable, human and hopeful.
Anyone who has lost a child or a loved one unexpectedly will understand this film on an emotional level that others may not. Some may call the film manipulative, while others may find love that can get lost in grief. Our publishing house, Pauline Books & Media, is asked often is to print and carry more books about how to understand and deal with grief, that deep life-changing sorrow that grabs your heart and won't let go.
"The Starling" is a "soft" drama of the quotidian sort, a story about love and loss that would never make headlines but takes its time to express universal realities and truths. Relationships can survive grief. Life may be different but it will go on.
There is a humility about the film that works for me.
(Updated September 28, 2021 for clarity.)
.