Hope is definitely not the same thing as optimism. It is not the conviction that something will turn out well, but the certainty that something makes sense, regardless of how it turns out.
Playwright, dissident, Velvet Underground fan and the first president of the Czech Republic after the Velvet Revolution, Vaclav Havel has died at age 75.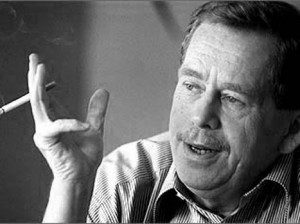 "There's always something suspect about an intellectual on the winning side," Havel once said, even though he himself was an intellectual who wound up — astonishingly, gloriously — on the winning side.
As a dissident in a repressive system, he saw little reason to hope that the side of freedom would ever be the winning side. But he also saw hopelessness as "the very soil that nourishes human hope; perhaps one could never find sense in life without first experiencing its absurdity."
In 1975, life in Soviet Czechoslovakia certainly seemed hopeless and absurd, yet he wrote this:
A secret streamlet trickles on beneath the heavy lid of inertia and pseudo-events, slowly and inconspicuously undercutting it. It may be a long process, but one day it must happen: the lid will no longer hold and will start to crack. This is the moment when something once more begins visibly to happen, something truly new and unique … something truly historical, in the sense that history again demands to be heard.
Fourteen years later, something truly new and unique, beautiful and revolutionary happened. And Havel went from being a dissident to being the president of a democratic republic. (Havel, like Nelson Mandela, was also wise and humble enough to provide that essential service that many post-revolutionary leaders are unable to provide: he left office at the end of his term.)
This is from his New Year's Address to the Nation in 1990:
Let us teach ourselves and others that politics should be an expression of a desire to contribute to the happiness of the community rather than of a need to cheat or rape the community. … You may ask what kind of republic I dream of. Let me reply: I dream of a republic independent, free, and democratic, of a republic economically prosperous and yet socially just; in short, of a humane republic that serves the individual and that therefore holds the hope that the individual will serve it in turn. Of a republic of well-rounded people, because without such people it is impossible to solve any of our problems — human, economic, ecological, social or political.