I know I've written this same post every few months about manufactured homes (or "mobile homes" or "trailer parks"). But it keeps happening. It's always happening.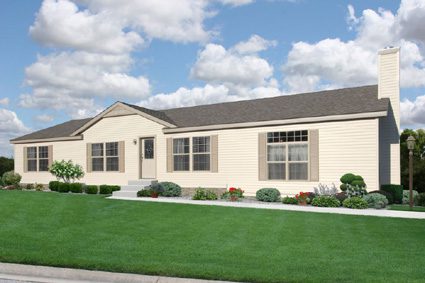 All that changes are the names of the towns, of the parks, of the councils and legislatures, and of the desperate homeowners explaining to reporters that they just don't know what they're going to do.
Writing for The Nation, Laura Flanders notes the vital importance of manufactured housing for Americans over the age of 65. Manufactured homes, Flanders writes, are "the largest source of unsubsidized housing still affordable for the middle class."
That's how she introduces her story, "Affordable Housing for Seniors in the Cross Hairs in Chicago," which focuses on the familiar theme of economic insecurity, anxiety and a lack of legal or market protections for those who own manufactured homes, but pay rent on the land those homes sit on.
Flanders introduces us to Sam Zell, a "billionaire property baron" who owns "hundreds of manufactured home communities that cater to senior citizens" through his company, Equity Life Style Properties.
The seniors who live in ELS communities have bought their homes, but they rent the plot on which their houses stand. Since Zell started buying up manufactured home communities, he has made millions by cutting services and raising rent. For retirees like … Helen Honeycutt, who came to Chicago from an ELS community in Los Osos, Calif., acquisition by Zell has turned what she thought was a well-planned retirement in a rent-controlled community into an insecure experience that threatens her nest-egg home.

"When we paid $85,000 for a manufactured home fourteen years ago, we were looking to have no mortgage, low overhead and a lifestyle we could afford," Honeycutt told me in Chicago. When ELS bought the property ten years ago, they started hiking rents and pressuring the county to eliminate rent control.

"Now I live in constant fear that the county will give up the fight against Sam Zell's deep-pocket lawsuits and we'll be priced out," explains Honeycutt. ELS says their tenants can move if they don't like it. "But my home is a 1,900-square-foot triple-wide. It's old. I can't move it two feet."
Again, this is why Zell's "free market" claims are hogwash. Mobile-home land rents are not a free market. "Tenants can move if they don't like it" only applies when tenants can move. Many of these "tenants" cannot move their homes at all, while others can only do so at great expense. When that is the case, there is no market mechanism to restrain rent increases.
And when there is no market force restraining those increases, and no legal protection for homeowners against them, then people like Sam Zell become gazillionaires by rent-gouging the elderly.

Rachel Swick Mavity reports for the Cape Gazette on a bill passed by Delaware's state senate that would require landowners to get special approval for any rent increases about the consumer price index: "Bill would not allow unreasonable lot-rent increases."
Without such protection, Delaware state Rep. Pete Schwartzkopf says, residents "are held hostage in these communities, and the park owners know it. That's not free market."
No, it's not, but the city of Oceanside, Calif., wants to pretend it is. "Proposition E Would Phase Out Rent Control in Oceanside's Mobile Home Parks," reports Alison St. John for KPBS.
St. John cuts to the heart of the matter:
It's important to make clear up front that mobile homes are not really mobile, so the homeowners' security is inextricably tied to the owner of the land it sits on – the owner of the park.

Linda Walshaw bought a brand new manufactured home here four years ago, after she suffered a series of strokes and had to stop working.

"We've been priced out of stick built homes," she said. "We've been priced out of apartments, and the only option that was really available to us was manufactured homes."

Walshaw paid a premium for the new home – $120,000 at the peak of the market a few years ago. Because it was in a rent controlled park, she knew she would never be priced out. She has decorated the interior tastefully with art work and kept it in immaculate condition.

But last year the Oceanside city council passed an ordinance to phase out rent control in the parks. Walshaw said her home has lost value like every other house in San Diego but, without rent control, the value has plummeted.

"Because if they can raise the rent without limit, then no other buyer is going to want this house," she said. "I've invested my life savings in this house. I've already lost a great deal of money since I've moved in and this will take the rest. If I lose this home, I lose everything."

Who would gain from phasing out rent control? The mobile home park owners. …
St. Johns' initial point there — "mobile homes are not really mobile" — is why rent control is absolutely necessary for these communities. People like Walshaw have no recourse if park owners decide to hike the rent.
It's not like an apartment building. If you're renting an apartment and the landlord decides to hike the rent 10 percent, or 50 percent, or 40,000 percent, then you can simply move out. Tenants' ability — at least in theory — to shop around for a lower rent exerts a market control on prices, keeping landlords from arbitrarily hiking rents or charging exploitative rates.
No such market control exists in mobile home parks. There, tenants invest in a lot and anchor themselves to it, unable to move away. They have no ability to shop around and no ability to constrain the landlord from whatever rent hikes he can bleed out of them.
So Proposition E has nothing to do with a "free market" — it has to do with granting one group of private citizens unchecked, unlimited power over another group of private citizens. That's not a market exchange. That's feudalism.
Des Moines Register reporter Lee Rood has investigated the sorts of things that can happen when private citizens (landlords) are granted this kind of unchecked power over other private citizens (tenants). Her 2010 series of special reports, "Trapped," offered a dismayingly thorough tour of the many ways in which Iowa's manufactured-home tenants are exploited and preyed on. (Here's the first installment of that series: "Thousands of Iowans are stuck in aging mobile homes.")
That was the kind of high-profile investigative series that prompts lawmakers to introduce legislation. But two years later, Rood reports, much of that reform legislation is stalled, "Failed bill means mobile home rules still shaky."
Iowa's landlord-tenant statute is so lopsided, tenants can be — and are — kicked out of mobile home parks with a 60-day notice for almost any reason.

Ben Bellus, an assistant attorney general who used to represent Legal Aid clients, knows of tenants who have lost their homes for refusing sex with a park manager; turning away a manager who wants inside a home after dark; and for declining to do maintenance for which the landlord was responsible.

If this seems outrageous, you might want to contact your state legislator. One of the bills that sputtered to a halt this year at the Legislature was House Study Bill 600, a measure that would have required landlords to provide a legitimate reason for terminating someone's lease in a mobile home park.
Requiring "a legitimate reason for terminating someone's lease"? Why, that's socialism!
From Florida to Oregon, Minnesota to California, residents of manufactured-home communities have been hit hard by rising lot rents as park owners have seen their own costs and vacancies rise.

But unlike some other states — where cities have the authority to establish rent-control rules or commissions to protect tenants — Iowa law prohibits such options.
Both of those forms of legal protection are necessary — indispensably necessary — wherever there is this situation of immobile homes resting on ground owned by a rent-collecting landlord. But they're not the best solution.
The best solution, again, is for the people who own the homes to also own the land beneath them — to convert every mobile-home park into a resident-owned community.
If you don't like rent control, and if you don't like regulation, then this ought to be your preferred solution too.
It works.
As Craig Welch reported last month in the Concord Monitor, it has worked dozens of times over in New Hampshire, as "In 100 parks, renters have become owners."
People from more than 5,600 New Hampshire households, most of them low-income, have created affordable housing for themselves. Quite an accomplishment, wouldn't you say?

The strategy they've used takes courage, faith in the future and faith in themselves. It results in housing that is stable and safe, and that helps them save money and build assets. It also results in improved neighborhoods and greater civic participation. And it generates property tax dollars for the 64 communities where it is located.

They're called resident-owned manufactured-housing communities, and last month a community in Derry became New Hampshire's 100th.

… New Hampshire's first resident-owned community was created in Meredith in 1984. The elderly owners of a 13-home trailer park needed to sell it because they couldn't keep up with the maintenance. At the time, real estate prices near Lake Winnipesaukee were sky-high as land was snapped up for condos and vacation homes. The park's longtime residents knew exactly what would happen if it was sold.

A couple of residents looked into buying the park themselves, but they didn't have the personal credit, or down payment, for a loan. So they organized the other residents into a cooperative and approached the banks as a group.

The banks still weren't persuaded. Three wouldn't lend to a cooperative. Two said that even as a cooperative, the families didn't have sufficient credit. Then there was the group's lack of management experience, low incomes and a leaky septic system that needed costly repairs. Few lenders thought that a newly formed group of volunteers could manage such an enterprise without bankrupting it.

But over the past 27 years, they've proven otherwise.

The Meredith group was assisted by a graduate student who needed a community development project to complete her master's degree. Her professors connected her with a brand-new organization, the New Hampshire Community Loan Fund. The Community Loan Fund connected with the Sisters of Mercy, who wanted to put the money in their retirement fund to use for a good purpose. This project was the perfect fit.

It would be 2½ years before the next New Hampshire park converted to resident ownership, but then the idea exploded. Thirty-five parks converted in the next 10 years, and 46 in the decade after that.

In 27 years, not one of these communities has failed.
Nearly 7 million Americans live in manufactured homes. That's nearly 7 million people facing financial insecurity and the daily anxiety of knowing that, at any point, the ground beneath their homes might be sold out from under them. We could make sure they all have the legal protections of rent control and tenant commissions to mitigate the exploitation they face as powerless tenants. Or we could help them — all of them — purchase the land beneath their homes so that they no longer are powerless tenants.