Surfing around for an image to enlist for the previous post on the story of Peter's vision from Acts 10-11, I came across some rather odd bits of artwork.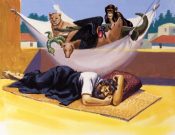 Like this one, for example, from a Sunday school curriculum illustrating the story.
Acts 10 says Peter fell into a trance and: "saw the heaven opened and something like a large sheet coming down, being lowered to the ground by its four corners. In it were all kinds of four-footed creatures and reptiles and birds of the air."
I'd just like to point out that a chimpanzee is not a four-footed creature.
And while Southern Baptist bishop Al Mohler and I may disagree about the meaning of Peter's vision, I'm guessing that Mohler would completely agree with me on this point: Nobody should be eating chimpanzees.
Chimps are fun to draw, which is probably how one ended up in this Sunday school sketch. But the creepy implication of this artwork seems to be that God is telling Peter that it's perfectly fine to eat a chimpanzee. That's just wrong.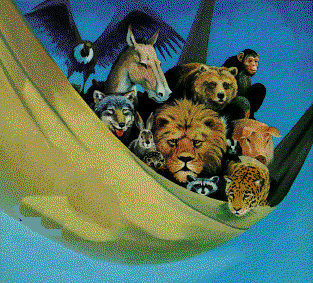 Here's another illustration of the story complete with another chimpanzee.
And look at the other animals shown here. There's the delicious pig, of course, but also a lion, a leopard and what I think is meant to be a wolf.
Think of the poor children in Sunday school staring at this picture. If they get past the horror of the chimpanzee coupled with the words from the story — "kill and eat, kill and eat, kill and eat" — then they're bound to start pondering how they would rank these animals in some kind of "What if you had to?" scenario. OK, they'll think, first the pig, then the rabbit then which? … the skunk? the bear? the horse? the buzzard?

These kids are going to be traumatized.
Maybe this explains why this story from the book of Acts is so widely misunderstood — everyone was too distracted by the terrifying Sunday school illustrations to pay any attention to the story itself.
Bonus question — and this one doesn't involve killing and eating anything, so vegetarians and vegans can feel free to play along in this round: Which animals in these illustrations would the apostle Peter have recognized?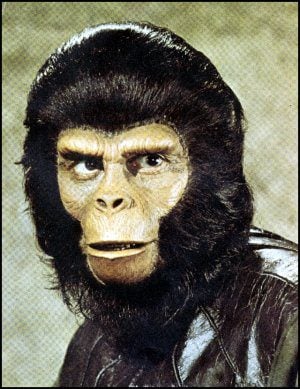 That's not an entirely frivolous question. It implies something about how we understand divine revelation.
Here we have the story of the apostle Peter receiving a vision directly from God — a vision specifically intended for and designed for Peter and only for Peter, an unschooled fisherman from Galilee who hasn't yet traveled beyond Palestine and Syria.
Why would God send such a man a vision that included skunks and raccoons — creatures native to the Americas that Peter would have no way of recognizing and no basis for understanding?
If God wished to communicate with this particular man, Simon Peter of Galilee, then wouldn't it make more sense for the vision only to include those "unclean" animals that Peter would recognize as such?
But here we're again approaching the realm of controversy, hinting at questions about the cultural constraints and culturally constrained meanings of divine revelation. That raises the possibility of another heated disagreement with Team Mohler, and since the idea here was for something more light-hearted and irenic we'll just back away from such questions here and save them for another time.
Here we'll just focus on those things that Team Mohler and I can fully agree on. Such as that no one should be eating chimpanzees. And that it's probably wise to avoid any mention of chimpanzees in the Sunday school materials for a story about a man named Cornelius.