I've written a lot here about trailer parks. That's the common, somewhat derogatory, term for manufactured housing communities in which residents own their houses, but not the land beneath them.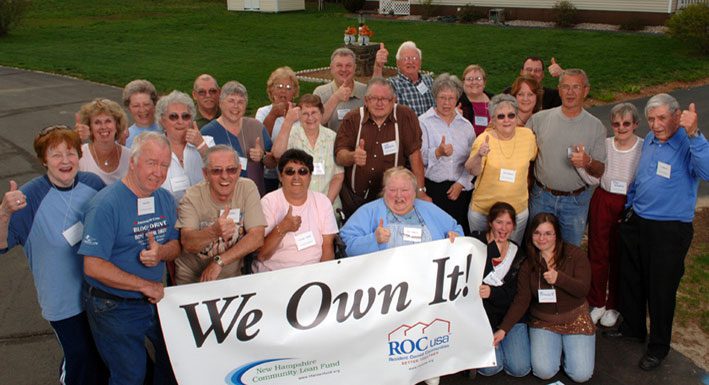 The problem with mobile homes is that they're not really mobile. They're anchored to a particular site, and detaching them to transport them elsewhere is extremely expensive and, in many cases, impossible. That means the regular rules of the market do not apply — there can be no competition to restrain arbitrary or extreme rent hikes because these home-owners are, literally, stuck right where they are. This creates an untenable situation for both the homeowners and the landlords who rent out the ground beneath their homes.
My preferred solution is to convert them — all of them, everywhere — into resident-owned communities. That's the idea championed by New Hampshire-based nonprofit ROC USA. They're right. When residents own the land beneath their homes they acquire the stability and security they now lack. They are able to build equity and to plan for the long term. Resident-ownership strengthens communities and empowers the families and retirees who live in them. And it reduces government regulation and intervention by eliminating the need for it.
So part of the beauty of ROC-USA's brilliant approach is that it should appeal to both sides of America's partisan ideological divide. Property ownership and less regulation are things that delight anti-government conservatives. Empowering the elderly and working-class families is like catnip for us liberals. It's a Wonderful Plan — one with an all-American, Capra-esque appeal that transcends partisan divisions. WWGBD? is a question that both conservatives and liberals can ask. (What would George Bailey do?)
The alternative, for both parties, is an insoluble partisan slog — a perennial political fight with no clear winners, but with millions of losers among the families caught in the crossfire.
A story from Lower Delaware's Sussex Countian outlines the shape of that political fight. Scott Goss reports "Manufactured home rents at issue in 37th District House race":
Rising lot rents in manufactured home communities is shaping up to be one of the central issues in the race for the state representative seat from District 37, which includes Georgetown and Long Neck.

Democratic challenger Beth McGinn, a resident of a manufactured home community in Long Neck, has taken incumbent Republican Ruth Briggs King to task for opting out of a House vote on legislation that would have limited lot rental increases.

…  The proposed legislation in question, Senate Bill 205, would have required the owners of manufactured home communities to seek state approval for average rent hikes greater than the previous year's increase in the Consumer Price Index.
Note that the issue here is not "rent control," but what is called "rent justification." Rents are not capped, but large annual increases must be explained in order to be approved.
It's easy to recognize the familiar battle lines in this variation of a long-running political fight: Landlords vs. tenants. One side has a lot more money, the other side has a lot more people. Democrats may view such a fight favorably, since tenants will always outnumber landlords. Republicans may like their odds, since landlords' money comes in handy in a political campaign, and since lower-income people have a history of being less likely to vote (even when, occasionally, they're allowed to do so).
Come November, I expect that realtor/Republican Ruth Briggs King will easily defend her seat in blood-red Sussex County, where Democrats are about as popular as Kyle Busch. But that dynamic could change over time as manufactured housing rents become an increasingly urgent concern in a county in which a large percentage of residents live without any market-based recourse, ever-contingent on the whims of their landlords. The rent is too darn high and the rent is too darn unpredictable.
Regulation like rent-justification may be a necessary stop-gap measure, but it's no long-term solution. Powerless people who now lack stability and security due to fickle landlords won't be a whole lot more secure if the power of those landlords is only checked by fickle commissioners on the state's rent-justification panel.
The long-term solution is to put these thousands of Delawareans and millions of Americans on solid ground. Convert these trailer parks into resident-owned communities and convert the rent now paid by these home-owners into mortgage payments on the land beneath their homes.
That's what George Bailey would do.