In order to stop the momentum of those un-signing the "Manhattan Declaration," the group's executive director has unveiled a new logo. (Yes, it's an organization now, not just a document — a manifesto can't cash checks.)
Eric Teetsel describes his inspiration for this logo:
When I moved to Washington I noticed these small blue stickers with two yellow lines permeating the city. They were on cars, t-shirts, and lamp posts. It wasn't long before I Googled "blue sticker yellow lines" and discovered it is the logo of the Human Rights Campaign, one of the nation's largest gay rights organizations.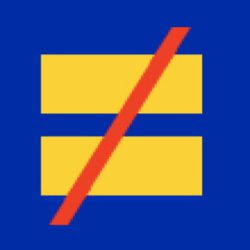 Teetsel is surely aware that two parallel lines make an equal sign, he just can't bring himself to say it. Teetsel won't allow the word "equality" to be spoken, or even thought.
That's some high-level weaseling there — the sort of self-deception that's so flimsy and desperate that even a large part of Teetsel's own brain is probably mocking him more mercilessly than anyone else.
(See earlier: "The fatuous foolishness of the Manhattan Declaration.")
* * * * * * * * *
Patrick Mitchel (via Rachel Held Evans) reviews a "complementation" book purporting to explain "What the Bible Really Says About Men and Women."
[Author Claire] Smith's obvious implication is that other readers who come to different conclusions must not be letting the Bible speak clearly – presumably due to feminist bias (she speaks of this in the opening chapter). There is more than a whiff of arrogance here – does she really think that other evangelical Christians are not coming to the text with equal sincerity and seriousness as she is?
Ooh, me, me, pick me! The answer is "Yes."
Yes, she really does think that other evangelical Christians are not coming to the text with equal sincerity and seriousness as she is.
Or, rather, that those who do not agree with her interpretation do not share her sincerity and seriousness because they are not really Christians.
Or, rather, that she's acting on the pretense that they are not really Christians in the same way that Eric Teetsel is acting on the pretense that he's never seen an equal symbol before.
* * * * * * * * *
Rachel Barenblat (a.k.a. The Velveteen Rabbi) posts a sermon on Jonah:
Why does Jonah run from God? Because he knows that once he goes to Nineveh and preaches teshuvah, the people will repent and God will forgive. And they do, and God does, and Jonah is furious. Sometimes it's hard to let go of our childlike fantasies of a world of simple equations, where those who do good are rewarded and those who do evil are struck down.
That's an excellent four-sentence summary of the book of Jonah. And an excellent four-sentence response to folks like Teetsel and Smith.