• Teresa Nielsen Hayden has a useful collection of links to keep you updated and prepared for Hurricane Sandy, aka the "Frankenstorm." Take care of yourselves and take care of each other. Be safe.
• Consumer Financial Protection Bureau launches complaint portal for credit-rating agencies. Release the Kraken!
• Big Tex goes home to Big Butter Jesus.
• The Commonwealth of Virginia has a new, officially recognized, official member of the clergy. Huzzah!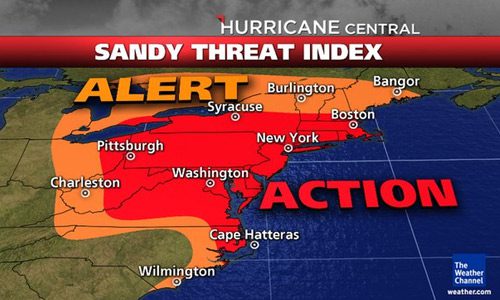 • A PayScale survey "asked a variety of workers if their jobs do good things for the world." The survey found that 4.9 percent of people who work in collections and 4.6 percent of investment banking associates believe their jobs are making the world a worse place. Or, in other words, 95.1 percent of people who work in collections and 95.4 percent of investment banking associates are lying to themselves.
• For culture-warriors, everything is tribal. Absolutely everything.
• This isn't that surprising: 96 percent of Ireland prefers the U.S. presidential candidate who's part Irish.
• This is fun: "A is for Agujaceratops," "B is for Becklespinax" … can't wait for the whole alphabet.
• Here, again, is your regular reminder that the American Family Association isn't just anti-gay, they also really hate Muslims.
• Meanwhile, John Sununu explains that he's only supporting Mitt Romney because Romney is white. Sununu has, in fact, never voted for a non-white presidential candidate.
• Charlie Chaput: "We're Catholics before we're Republicans." So what does that mean? Can you clarify that Mr. Archbishop? "Abortion is a very serious issue that requires absolute adherence on the part of Catholics." Ah, so you mean you're Catholics and therefore must absolutely adhere to the GOP. Got it. Good luck with that you abuse-hiding partisan hack.
• Return of the lustful cockmonster. One side of this debate is a lot funnier than the other.
• You can choose to listen to this for four more years. Or you can choose to listen to this.