I'm enjoying Elementary, the new detective show on CBS featuring Sherlock Holmes in contemporary New York City.
The cast and the writing are quite fun so far. The creators of the medical drama House have said that the show was conceived as Sherlock Holmes in the medical profession, and there's a bit of Hugh Laurie's House in Jonny Lee Miller's Holmes (which I see as a good thing).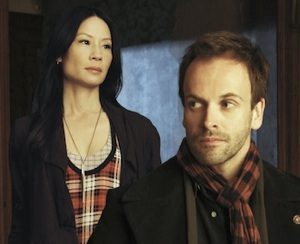 Sherlock Holmes is a larger-than-life character, but compared to some other successful TV detective series — like CBS' CSI franchise — Elementary seems almost realistic. Holmes' super-human powers of observation and deduction may not be strictly realistic, but I'm happy to embrace that as just part of Arthur Conan Doyle's original premise. But there is one recurring aspect of the show that seems wholly unreal and that can be jarring every time it comes up. Elementary, it turns out, is not really set in contemporary New York City, but rather in some parallel-universe version of contemporary New York in which no one has ever heard of Sherlock Holmes and Dr. Watson.
The setting is not really New York in 2012, but New York in 2012 as if Conan Doyle's iconic stories had never existed.
That's not a huge difference, but we're constantly reminded of it when watching Elementary. Every time Sherlock Holmes is introduced as "Sherlock Holmes" and people respond without a hint of recognition, we're confronted with the difference between the world of the show and our own world. Here in our world — the real world — everyone knows that name. Sherlock Holmes is not merely famous, he's proverbial. "No [kidding], Sherlock," we say, sarcastically invoking the fictional detective as the universally recognized epitome of deductive brilliance.
That's the paradoxical problem in all stories like this. In order to present a setting in which Sherlock Homes can seem real, that setting cannot allow for the existence of the fictional Holmes. And a world without the fictional Holmes can never seem wholly familiar or real.
This paradox is not an insurmountable problem for Elementary which is, again, quite fun and entertaining.
But a variation of that same paradox is a far greater problem for stories like the one Tim LaHaye and Jerry Jenkins tell in their best-selling "End Times" thriller Left Behind and its sequels. That story, LaHaye and Jenkins insist, is more than simply a diverting bit of entertainment. It is, they say, a depiction of "Bible prophecy" — an attempt to portray real events that really will, and must, occur here in the real world in which we now live.
I suppose such a claim was more plausible back in the early 20th century, when Cyrus Scofield was first madly scribbling the footnotes of his "prophetic" reference Bible. Back then, one could have read those footnotes in the first editions of Scofield's annotated Bible and imagined that his "prophecies" might come true. The deceptive rise of the Antichrist's rule over an unsuspecting world might have at least seemed theoretically possible.
But that deception and that unsuspecting world are necessary ingredients in Scofield's story — and in the same story as later repackaged and re-sold by popularizers like Hal Lindsey and Tim LaHaye. But due to the enormous storytelling success of Scofield, Lindsey and LaHaye, this blissfully unsuspecting world no longer exists. The deception integral to their story could no longer occur as they "prophesy" it must.
Just as Elementary requires the conceit of a world in which the stories of Arthur Conan Doyle never existed, so too the fulfillment of these "Bible prophecies" would require a world in which the Scofield Bible, The Late Great Planet Earth, and Left Behind never existed.
That's not a big problem for Elementary, since enjoying that show does not require one to believe it's a true story. But since the central claim of Left Behind, et. al., is that these are — or will be — true stories, this paradox is a much bigger problem for them.