Welcome to the future of "small government." America's infrastructure was once the best in the world. But we didn't want to pay to maintain it.
David Cay Johnston: "America's Coming Infrastructure Disaster"
For decades, America has scrimped on taking care of the public furniture, endangering people and weakening the economy as bridges rust, roads crumble, dams weaken, and water mains leak. The sudden collapse of an Interstate highway bridge in Minneapolis in 2007, killing 13, and the cracks that shut down the Sherman Minton Bridge connecting Indiana and Kentucky last year (it reopened in February) are warning signs of widespread, but hidden, dangers lurking all around us.

Even greater threats can be found among the decrepit corporate-owned infrastructure, including high-pressure oil and natural-gas pipelines that can explode without warning, electric power poles long past their replacement dates, and a telecommunications system that is far less reliable today than it was two decades ago — despite customers paying more than a half-trillion dollars for upgrades.

America's infrastructure gets a grade of "D" from the American Society of Civil Engineers, which recommends that we spend $2.2 trillion on repairs and maintenance.

… Under the banner of deregulation, the monopolies that supply electricity, water, gasoline, natural gas, and Internet access have been hollowing out the privately owned infrastructure on which modern life and economic activity depend. Instead of putting more into maintenance, they have slashed budgets. At the same time, they earn phenomenal profits: up to 55 percent on their assets, eight times the average for all corporations.

Corporate monopolies that own railroad bridges, hydroelectric dams, and high-pressure pipelines have skimped on taking care of this infrastructure, putting lives and property across America at unnecessary risk from blackouts, collisions, and explosions, even the threat of entire towns being washed away by bursting dams.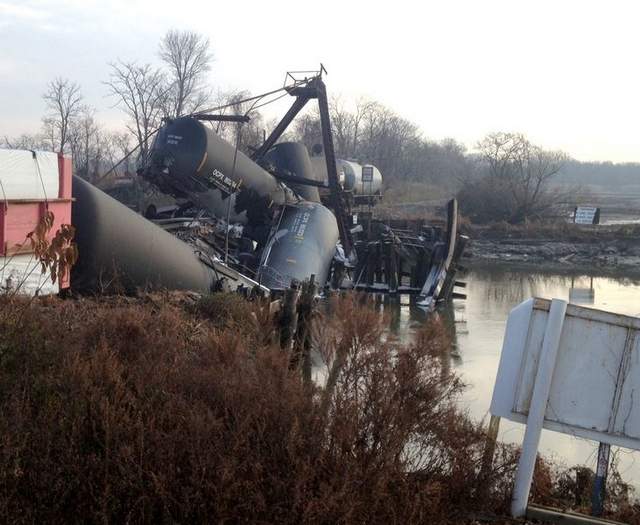 KYW/CBS Philly: "Freight Train Derails, Spills Chemicals in Paulsboro, NJ; Evacuations Ordered"
Officials say a freight train derailed over the Mantua Creek, leaking a chemical called vinyl chloride, which is considered toxic and highly flammable. Hazmat crews are currently on scene.

It appears the five cars derailed when a bridge they were traveling over collapsed. Some of the trains are currently submerged in the Mantua Creek.

Rescue units have been dispatched to the scene after numerous people complained of respiratory problems. A number of people in the immediate area have been evacuated.

The U.S. Coast Guard has also been notified because the chemical might be leaking into the Delaware River.
Travis Waldron: "How Increasing Infrastructure Spending Provides a Major Boost to Our Economy"
The United States has a massive infrastructure deficit, with independent analysts finding that the country could need as much as $2 trillion in immediate investments just to bring its infrastructure up to date. With the economy recovering slowly and our nation's roads and bridges crumbling, a new paper from the San Francisco Federal Reserve found that making investments into infrastructure has substantial short- and medium-term benefits for the economy.

Each dollar invested into infrastructure boosts state economies by at least two dollars, the paper found:

Federal highway grants to states appear to boost economic activity in the short and medium term. The short-term effects appear to be due largely to increases in aggregate demand. Medium-term effects apparently reflect the increased productive capacity brought by improved roads. Overall, each dollar of federal highway grants received by a state raises that state's annual economic output by at least two dollars, a relatively large multiplier. […]

In other words, for each dollar of federal highway grants received by a state, that state's GSP rises by at least two dollars.