And a blessed new Long Count to you and yours!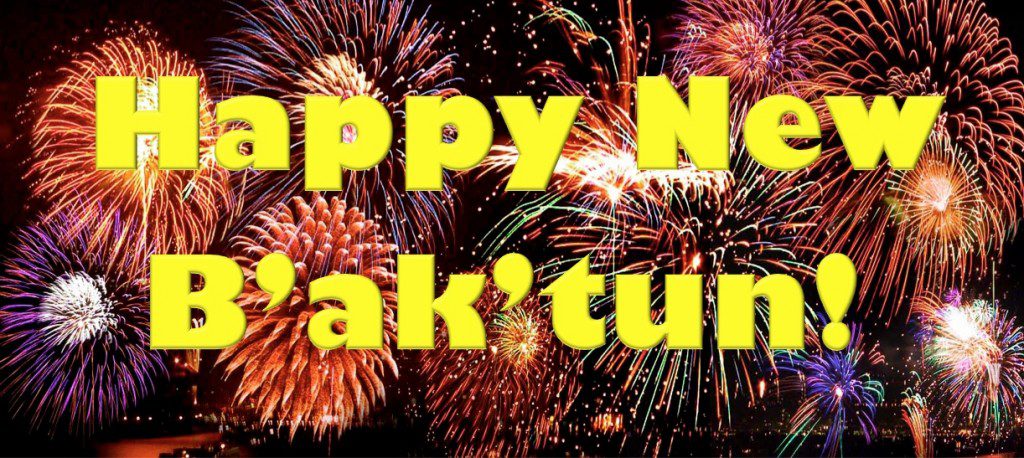 There is no suggestion, not even a hint, in Maya writing that they thought the end of this current b'ak'tun had any connection to doomsday. It's entirely possible it may have even been thought of as a time of celebration (just like we celebrate New Year's Eve).

The Maya also had bigger units of time, including the piktun (which was either 13 or 20 b'ak'tun), and the alautun, which was — get this — 63 million years! So it doesn't sound like they were predicting the end of the world ever, let alone by this weekend.

Anyway, it hardly matters. Just like our calendar, theirs was based on cycles. At the end on a cycle, you reset all the current units and move the biggest one up a notch. It's what we do on December 31: Reset to the first day of the first month, and increment the year by one. Happy New Year! Same thing with the Long Count. After the last day of the 13th b'ak'tun, they'd start over at the next one.

So even the very basis of all this fear-mongering is wrong. But why let facts get in the way of a good doomsday?
NASA:
Just as the calendar you have on your kitchen wall does not cease to exist after December 31, the Mayan calendar does not cease to exist on December 21, 2012. This date is the end of the Mayan long-count period but then — just as your calendar begins again on January 1 — another long-count period begins for the Mayan calendar.
David Morrison, an astronomer at Nasa, said: "At least once a week I get a message from a young person, as young as 11, who says they are ill and/or contemplating suicide because of the coming doomsday. I think it's evil for people to propagate rumors on the internet to frighten children."

Mayans themselves reject any notion that the world will end. Pedro Celestino Yac Noj, a Mayan sage, burned seeds and fruits to mark the end of the old calender at a ceremony in Cuba. He said: "The 21st is for giving thanks and gratitude and the 22nd welcomes the new cycle, a new dawn."
Photo gallery: "Predicting the end of the world — FAIL"