Here's Matthew Hagee performing "Let It Snow":
Needs more theremin.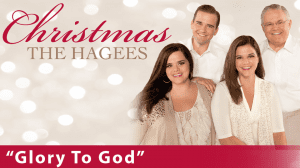 There's plenty more where that came from in the hour-long "Christmas With the Hagees" special, featuring the entire Hagee clan, including Matthew and his dad, mega-church pastor John Hagee. It's a chance to see what life is like at home for televangelists when they're not railing against evil homosexuals or warning that the Great Tribulation is going to start at any moment.
I don't care for Matt Hagee's religious-right preaching, but he's got a nice voice. Kind of reminds me of Kurt from Glee, if Chris Colfer were middle-aged and rabidly anti-gay.
• Addie Zierman's "A Merry Little Evangelical Christmas" is in many ways familiar, but her childhood memories of the evangelical subculture are from a different decade than mine.
Her list would also have marked her as dangerously liberal in the circles I grew up in. Zierman cites Amy Grant's Home for Christmas album as a holiday staple. That came out in 1992 — meaning it is post-Lead Me On and therefore officially controversial. Worse than that, it's post-Heart in Motion. After "Baby, Baby," even Amy Grant's 1983 A Christmas Album became anathema for some of the folks at my church.
• Brandon Hook shares his picks for "Christmas Music That Isn't Horrible."
• Amanda McInnis says Twisted Sister's "O Come All Ye Faithful" may be "the strangest, creepiest, incongruous music video ever." I can't argue with that (but I'd be happy to hear other candidates).
• Public Policy Polling has a bit of frivolous fun with Christmas music:
If voters saw Mommy kissing Santa Claus, 43 percent would tell Daddy, 40 percent would not and 17 percent weren't sure.

When asked, "If Grandma got run over by a reindeer, would you press charges against Santa?" 61 percent would not press charges, to 24 percent who would. 33 percent of Democrats would press charges compared to 19 percent of Republicans.
PPP also found that the Chipmunk's rendition of "Christmas Don't Be Late" is regarded as the most annoying Christmas song, with 36 percent finding it unbearable compared to runner-up "Santa Baby" at 13 percent. The Chipmunk song was also the last Christmas song to reach No. 1 on the Billboard Hot 100 U.S. Singles chart, in 1958.
• Rosie Thomas' version of the song is gorgeous and not at all annoying. Thomas' rendition adds a verse and makes it more explicit, but even the annoying Chipmunks version — once you get past the 78-rpm gimmick — is structured as something like an Advent prayer:
We've been good, but we can't last
Hurry Christmas, hurry fast …
That is, as the rabbi said, a kind of "quasi-exilic yearning."
• This isn't music- related, but Rebecca Trotter has a beautiful story about Santa Claus. It reminds me of Goblinbooks uncharacteristically cheerful post about the Santa conspiracy. The point isn't to believe in Santa, but to act like Santa. "Welcome. … You will spend the rest of your life doing wonderful things." Ho ho ho.