I linked yesterday to Rachel Barenblatt's poem on "the nameless daughter of Yiftach (in English, his name is usually rendered Jephthah)."
The story of Jephthah is told in Judges 11, with the fate of his daughter described in Judges 11:34-40. Before going to battle with the Ammonites, Jephthah made a vow to God:
"If you will give the Ammonites into my hand, then whoever comes out of the doors of my house to meet me, when I return victorious from the Ammonites, shall be the Lord's, to be offered up by me as a burnt-offering."
He defeats the enemy and returns home, and then:
There was his daughter coming out to meet him with timbrels and with dancing. She was his only child; he had no son or daughter except her. When he saw her, he tore his clothes, and said, "Alas, my daughter! You have brought me very low; you have become the cause of great trouble to me. For I have opened my mouth to the Lord, and I cannot take back my vow."
Barenblatt teaches me something I hadn't known about this story, and about the winter holy days we celebrate in December:
Tekufat tevet, the winter solstice, is regarded as the date when Yiftach's [Jephthah's] daughter was killed.
The darkest day of the year seems appropriate for such a dark story. Note that this tradition assumes that Jephthat's daughter "was killed." That is undeniably what this story suggests — a sacrifice to God "as a burnt-offering." Barenblatt's powerful poem reflects on this. Read the whole thing, but here is the final stanza:
when he burned her bones
no prophet spoke God's anger
and the maidens mourned alone
She also points us to Alicia Ostriker's long poem/ritual script/cantata "Jephthah's Daughter: A Lament." Ostriker begins with the final verse in the story of Jephthah and his daughter as the basis for this ritual:
And it was a custom in Israel, that the daughters of Israel went yearly to lament the daughter of Jephthah the Gileadite four days in a year.
This is in the Bible, so for Christians, this story is part of our story.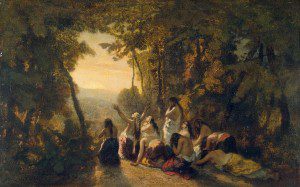 And we don't even know her name.
Some interpreters of this story have latched onto a slightly less horrifying reading, suggesting that Jephthah's daughter was not killed as a sacrifice, but was instead dedicated to God, set apart in seclusion as a perpetual virgin.
I certainly prefer that reading to the plainer one, but as much as I'd prefer to read this story that way, I don't find the case for this reading very persuasive. This is the book of Judges — a relentlessly bloody collection of tales of slaughter, rape, terror and even a suicide bombing. There's little in the chapters preceding or in the chapters following the story of Jephthah that suggests we should look for a less horrifying way of spinning this story.
The entry on Jephthah in the Jewish Encyclopedia mentions this alternative interpretation, but dismisses it:
According to some commentators … Jephthah only kept his daughter in seclusion. But in Targ. Yer. to Judges xi. 39 and the Midrash it is taken for granted that Jephthah immolated his daughter on the altar, which is regarded as a criminal act; for he might have applied to Phinehas to absolve him from his vow. But Jephthah was proud: "I, a judge of Israel, will not humiliate myself to my inferior." Neither was Phinehas, the high priest, willing to go to Jephthah. Both were punished. …
The rabbinical commentary on the story is fascinating:
The Rabbis concluded also that Jephthah was an ignorant man, else he would have known that a vow of that kind is not valid; according to R. Johanan, Jephthah had merely to pay a certain sum to the sacred treasury of the Temple in order to be freed from the vow; according to R. Simeon ben Laḳish, he was free even without such a payment (Gen. R. l.c.; comp. Lev. R. xxxvii. 3). According to Tan., Beḥuḳḳotai, 7, and Midrash Haggadah to Lev. xxvii. 2, even when Jephthah made the vow God was irritated against him: "What will Jephthah do if an unclean animal comes out to meet him?"

Later, when he was on the point of immolating his daughter, she inquired, "Is it written in the Torah that human beings should be brought as burnt offerings?" He replied, "My daughter, my vow was, 'whatsoever cometh forth of the doors of my house.'" She answered, "But Jacob, too, vowed that he would give to Yhwh the tenth part of all that Yhwh gave him (Gen. xxviii. 22); did he sacrifice any of his sons?" But Jephthah remained inflexible.
What impresses me in this commentary is the rabbis' condemnation of Jephthah's vow as "not valid." That's quite different from the way I was taught this story in my own evangelical/fundamentalist Christian tradition, in which this story is almost always referred to as that of "Jephthah's Rash Vow."
That word — "rash" — is treated as the key point of this story, which is presented as a cautionary tale against imprudent or reckless promises. I don't recall ever hearing a Sunday sermon on the story of Jephthah, but I probably heard a half-dozen Sunday school or Bible class lessons, and all of them pointed to this as the moral of this immoral story: Don't make rash vows, because you will be bound by them just like Jephthah was.
And that's monstrous — almost as horrifying as the original story. Those well-meaning Sunday school teachers all assumed, as Jephthah did, that he was absolutely bound by his vow, no matter what. And thus they all repeated Jephthah's error — assuming that such vows and rules might somehow matter more than the life of Jephthah's daughter.
That seems to me to be precisely the opposite of what this brutal little story actually illustrates. It shows us the lethal ignorance and sinful pride of remaining "inflexible." The story of Jephthah is the story of everyone who decides that vows and codes and rules must be absolute. That way of thinking always ends in death.