I ran "job-seeker open threads" regularly for several months as a quixotic, try-anything response to our ongoing jobs crisis.
My thinking was that even the longest of long-shots was worth a try, so why not offer the comment section of this blog as a networking forum for those looking for work? There was a slim chance that someone might post, "I'm a research librarian looking for a job in Dubuque" and someone might respond "My cousin is a head librarian in Dubuque and she's looking for help, here's her email."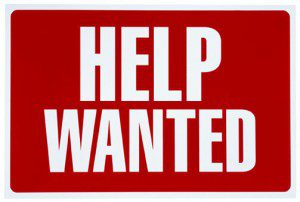 You never know, it could happen.
But then it didn't happen. And even though I'd thought of this as like a no-cost lottery ticket — slim odds, but why not? — I eventually came to think that those open threads did have a cost. Losing ticket after losing ticket contributes to the sense that you're losing, or maybe even that you're a loser. There's an emotional toll from every click, every resume sent into the void, every application for a less-than-ideal position, where even applying seems like a compromise, like settling, only to find that you're not allowed even to settle or to compromise.
So I stopped posting these job-seeker open threads, because a fruitless, head-against-a-brick-wall job search is disheartening enough without periodic reminders from me.
But the jobs crisis is still with us. People need work. The ratio of job-seekers to job openings has improved slightly, but it's still at 3.3 people for every open position. And the response from Washington is still to focus on budget deficits — ignoring the fact that mass unemployment is a huge contributor to those deficits, and that job growth is the best and fastest way to end them.
So let me ask: Are those job-seeker open threads worth reviving? Is the long-shot chance provided by one more venue for "networking" worth the deflating emotional cost of one more venue for disappointment?
Let me know what you think.