I was too young to remember watching the Miracle Mets surprise the Baltimore Orioles and the world by winning their first World Series in 1969, but I can still remember their next championship like it was yesterday.
The scrappy 1973 Mets — the team that gave us "You Gotta Believe!" — had implausibly defeated the Big Red Machine in the playoffs and had forced the mighty Oakland A's to a seventh game in the World Series.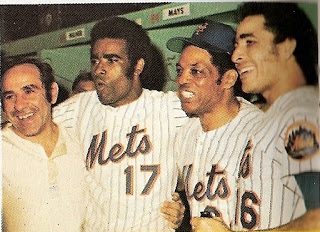 The game started poorly for the Amazin's, with Bert Campaneris and Reggie Jackson both homering in the bottom of the third inning to give Oakland a 4-0 lead, chasing Mets' starter Jon Matlack. And by the time the ninth inning arrived, the A's had a 5-1 lead with future hall-of-famer Rollie Fingers on the mound needing just three more outs to secure the win.
You know the rest of the story.
Ed Kranepool, batting with two on and two out, hit what should have been a game-ending groundball, but Deron Johnson's error let John Milner score. Now it's 5-2, still two on and two out, tying run at the plate.
As Mets skipper Yogi Berra said, "It ain't over 'til it's over."
Wayne Garrett's single made it 5-3, followed by Felix Millan's epic at-bat, fouling off 11 pitches before working out a walk to load the bases for Rusty Staub and baseball history.
I don't have to tell you what happened next — "Rusty's Rocket," "The Slam Heard 'Round the World," you've probably seen clips of that moment a thousand times. Or that famous photo of Jerry Koosman embracing Jerry Grote on the mound after pitching a perfect ninth-inning on three days' rest.
Watching the game on television back in New Jersey, I cheered and cheered. I didn't cry at all because Wayne Garrett didn't pop out to shortstop and I get to remember 1973 exactly the way I want to, the way I wish to, just like Al Mohler does.
We can't be bound by memory, or documented history, or truth or facts. We can rewrite all of those to create a mythic reality preferable to any sad truth, sad memories, sad history that we'd prefer were somehow different.
So if Mohler gets to reach back to 1973 to fabricate a mythic history involving some kind of principled evangelical backlash to Roe v. Wade that never happened, then I get to do the same thing — I get to reach back to 1973 and invent a history that suits my emotional needs too. I'm just changing Garrett's pop-fly into a single. That's a much more modest change than rewriting a decade of increasing Southern Strategy partisanship into something that we can pretend gives us the moral high ground.
The history books may say different than what Al says or what I say. And Mohler and I are both old enough to remember what really happened. We're both old enough to know that my account of the ninth inning above is as ridiculously fictional as his column in the Post. But why should either of us have to settle for such memories and such unpleasant truths when our fantasy histories are so much more enjoyable?
So Viva le Grande Orange! And all hail the 1973 World Champion New York Mets!