• The official souvenir program for the inauguration of William McKinley in 1901 included an almost-steampunk imagining of the inauguration of 2001.
At the close of his address, President Barrington was escorted to the Mansion of the States by the Governors of the 118 States and 99 Territories. Here a great banquet was spread in the main hall, covers being laid for 25,000 persons. All of the Government officials and the heads of the Army and Navy were present, and many notable addresses were delivered through the phonelegraph.
Click through to read that whole program — it's fantastic, like something out of a short story by Jay Lake.
• And speaking of Jay Lake, the Acts of Whimsy fundraiser for his cancer treatment is a thing of beauty.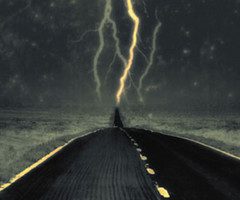 • Frank Newport, editor-in-chief of the Gallup Poll, seems to be borrowing from Neil Gaiman. Newport's new book is called God Is Alive and Well, by which he means that polling shows that belief in God is alive and well. The idea suggested by Newport's title seems to follow the conceit of Gaiman's American Gods, in which the strength and survival of the gods depends on the depth and number of adherents to their respective religions.
It's a very cool idea as the premise for a fantastical, speculative novel (or an HBO series). It's a very strange idea for a pollster or a student of religion.
• The fabulous ministry of The Reverend Roger Anthony Yolanda Mapes.
• "Wilson and Krause encountered a pod of whales, made up of several adults and calves, that had apparently adopted an unlikely non-whale companion to join their clan — a deformed bottlenose dolphin." They have pictures.
• "How to Start a Revolution." Gene Sharp, now 85 years old, is the most dangerous man in the world.
• I'm looking at these lists of the "top 10 most psychopathic professions" and "top 10 least psychopathic professions" and thinking maybe they help to bolster my longstanding argument that journalists should be craftspeople rather than professionals. (They list "craftsperson" as a "profession," though, so it seems either they or I have some misconceptions about those words.)
•
Angry, stupid white people on Twitter
.
• The US government is "an insurance company with an army." — Peter Fisher, undersecretary of the Treasury, in 2002.
• Religious right radio: Labor unions must be stopped because abortion and gays.
• More "gracious and cordial" Christians making up nasty stuff about gay people. I guess once you embrace the idea of Lying for a Good Cause, then it starts to seem like the more outrageous and vicious those lies are, the more virtuous you are for telling them. Or something.
• Here's a map and diagram of what the NRA wants American elementary schools to look like. (Actually it's a diagram of "The Citadel" — a heavily armed Randian utopia intended for somewhere in Idaho.)
• How good is Paul Bibeau's Goblinbooks blog? So good that posts with titles like "A Message to the NRA From a Guy With a Duffel Bag of Guns" and "A Message to the Tea Party From a Guy Who Urinated on a Power Line" live up to those headlines with pitch-perfect panache.
• Ric Alba:
Everyone has the drive to be known and loved. During the '80s I couldn't let myself feel the love so much, because I felt I wasn't letting people know the real me. When you're delivering to friends and fans, someone other than your true self, it's nearly impossible to absorb the love people send you. It always feels like it was meant for someone else, and that you're taking love under false pretenses.
• Jodie Foster:
I want to be seen, to be understood deeply, and to be not so very lonely.