Today is a big day here at Slacktivist World Headquarters, and not just because pitchers and catchers have started reporting for spring training. As of today, the Yaris is now officially paid off.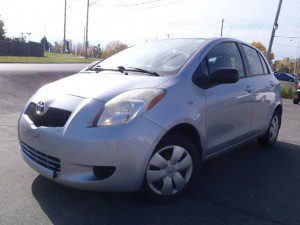 So now I'm in that sweet spot of indeterminate length — the space of time between when you're done with car payments and when your car starts breaking down so much that repairs start to exceed the cost of those former payments. The Yaris is still in pretty good shape, so here's hoping it lasts until the next generation of technological breakthroughs finally produce affordable plug-in electric vehicles.
We refer to my car here at SWH as "the Yaris" due to an old joke about the clumsy and intrusive product-placement on Smallville. Clark Kent's friend Chloe Sullivan drove one on the show and it seemed the producers' ad contract with Toyota required them to repeatedly mention the model name of the car, no matter how awkward or unnatural this sounded in conversation. ("Hurry Clark! We'll take my Yaris!") It didn't help that we were also always thinking — No, don't get in the Yaris, dummy, you can fly!
I joked about that for years … and then, after my '96 Civic died, I bought a Yaris. So I guess the joke is on me.
The good news for the Yaris is that I now work from home, so I'm happily no longer racking up the mileage from a nightly commute to and from Delaware.
Working from home and trying to make a go of it here as a full-time blogger brings us to today's other big milestone — my first experience doing my taxes with only a 1099. Hadn't really appreciated the full tax implications of "independent contractor" meaning one is both employer and employee. You know you're in for it when your accountant friend starts out by explaining that the IRS has very reasonable installment plans. Those should be about the same as the car payments on the Yaris, so it works out.
Still, I don't mind taxes, I use them to buy civilization. And on that score I'm far less concerned about the price going up than about improving the quality of the merchandise.
A few more recent milestones:
• The Bonfire list now stands at 1,164 blogs. So the answer to that question "Where are all the Christian women bloggers?" turns out to be that they're not hard to find.
If you know of any other blogs that ought to be listed there, please let me know in comments here or at slacktivist at hotmail dot com. The only criteria for that list is that they be active blogs written by Christian women. (This ain't Beliefnet, so blogs with the word "feminist" in their names are not excluded.)
Let me assure you that 1,162 of the blogs in that list are excellent. The other two are just awful — but I won't say which two, you'll have to check them all out yourself to find out.
• My list of blogs by Christians of color, "The Mosaic," is up to 124. That's a little better, but still not as big as it should be. And still not yet big enough to make jokes about two of them supposedly being awful.
Again, please recommend any other blogs that belong on that list (especially if it's your own blog — that wouldn't be immodest, this is an invitation).
• My list of blogs by LGBT Christians — "Xn QUILTblogs" — is frustratingly just shy of a big milestone. It now stands at 98 blogs, and I'd very much like to break the 100-blog mark. I know there are other terrific writers and voices I haven't yet discovered, and I hope some of you can introduce me to them.
Everybody likes big round numbers, and since most of us have ten fingers and ten toes, 100 just seems like a bigger deal than 98. Once that list reaches 100, I can tout it as a list of The Top 100 Blogs by LGBT Christians. If I tried to do that now, it wouldn't be convincing. A list of The Top 98 Blogs would seem like when a shrinking local church makes a big deal out of its 95th anniversary and everyone just shakes their head sadly, realizing it's because they're probably not still going to be around for their centennial.
I know there are more than two excellent blogs missing from that QUILTblogs list, so please help me find them.
Those three lists are limited to blogs written by Christians because my intent there is to catalog, and amplify, the voices of Christians who may have been kept to the margins of straight-white-male American Christianity. But mainly I started these lists for myself — as an effort to expand the scope of my own reading and to add to the chorus of voices in my own RSS feed.
And on that latter point, I very much do not want to limit myself only to blogs written by Christians. So please feel free to recommend any other blogs you think I should be following as well (either here in comments or, again, at slacktivist at hotmail dot com). Thanks.