Kathleen Geier asks "Why have family-friendly work policies fallen off the national agenda?"
A big part of the answer is that the category of "family-friendly" has been replaced by the category of "pro-family," which is, in turn, a euphemism for anti-feminist and anti-gay.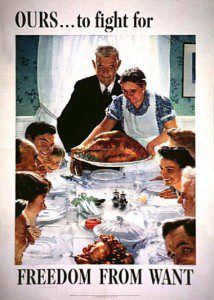 And since family-friendly work policies would increase the options, choices, freedom and quality of life for women, they tend to be opposed by pro-family groups.
Those "pro-family" groups — and the religious leaders who support them — have also demonstrated for decades now that the value they place on "family values" is always secondary to the value they place on unfettered corporate freedom. Hence, for example, their utter lack of support for Title IX or for the Pregnant Workers Fairness Act — two measures that ought to have the enthusiastic support of anyone who values families and dislikes abortion.
This is a two-part problem. The first part is that we have surrendered the necessary task of advocating on behalf of families to "pro-family" clerics and lobbyists who are more anti-modern than actually pro-family, meaning families do not now have any effective advocates for their interests and for what Geier calls "policies that promote work-family balance."
The second part is that these "pro-family" clerics and lobbyists have been pushing an anti-feminist, anti-woman agenda that winds up hurting families.
Bryce Covert has a smart discussion of this in a post titled, "We're All Women Workers Now: How the Floor of the Economy Has Dropped for Everyone":
Our workforce, once dominated by men, is now pretty much equally split between the genders. But a funny thing has happened since women entered it in droves: rather than all workers enjoying the stable, unionized, blue collar jobs men typically held until the latter part of the 20th century, the jobs held by all workers look more and more like stereotypical "women's work." These jobs expect workers not just to make a product, but to do it with a warm attitude. They are less likely to be full-time, but instead modeled after part-time work for "pin money." And an increasing number of jobs are low-pay, low-benefit work in the service sector, once the purview of women workers. We're all women workers now, and we're all suffering for it.

… Even full-time employment looks increasingly like the service sector jobs that were once thought to provide women "pin money," not the sole source of income for a family. A report from the National Employment Law Project found that mid-wage jobs have been all but replaced by low-wage jobs in the recovery period. Retail has led the pack in creating jobs — about a third of the people who got a job in November, for example, got it in retail. The sector added over 140,000 jobs between September and November. Food service and other service sector jobs also lead the pack. These have traditionally been dominated by women, but now if you want a job, both genders have to take a look at working jobs that offer little pay, few benefits and barely any stability.
There's a general principle at work here. It's what Martin Luther King Jr. described in his Letter From a Birmingham Jail:
Injustice anywhere is a threat to justice everywhere. We are caught in an inescapable network of mutuality, tied in a single garment of destiny. Whatever affects one directly, affects all indirectly.
Privilege can't be preserved by keeping others down — that will only lead to everyone being kept down with them. If you want to preserve your privileges, insist that they are not privileges at all, but rights — and that they are the right of everyone.
One way or the other everyone will eventually wind up in the same situation — rights for all or rights for none.