• Wikipedia says that with 424 members, the New Hampshire General Court is "the largest state legislature in the United States and the fourth-largest English-speaking legislative body in the world." I think it's too big — and the evidence continues to pile up that it's just way too large to maintain a quorum of the competent.
• A delirious fever-dream of a frightening alternate reality. Otherwise known as the past 16 months of National Rifle Association magazine covers.
The remarkable thing is the perpetual warning of imminent catastrophe: "If X happens, then all is lost," the headlines warn. Then X happens, after which the next month's issue says, "If Y happens, then all is lost."
These stories can only appeal to people who are: A) very, very easily frightened; and B) unable to recall last month.
• Poor people must prove that they are innocent of the vices of the powerful:
Georgia state House Rep. Chuck Sims (R-Amrbose) was arrested last week and charged with Driving Under the Influence, his second such arrest in the last three years.

… Sims was arrested for DUI in 2010 by Atlanta police. He is among the state lawmakers who voted in favor of House Bill 861, which mandated drug testing for all Georgians seeking public assistance funding.
• Rush Limbaugh does not like the Christian principle of subsidiarity: "This is Marx, Mengele, communist manifesto, the nuclear family has always been under attack by communists, leftists."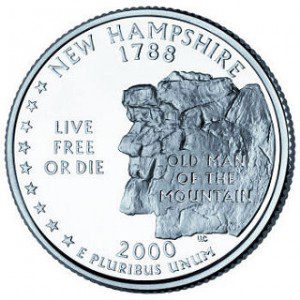 • Seriously, if the New Hampshire General Court were smaller, maybe it wouldn't include quite so many embarrassing legislators.
• Christianity Today: "Margaret Thatcher Obits Overlook Her 'Devout Christian Faith'"
Maybe that's because her politics and her contemptuous disdain for the poor and the working class also overlooked her devout "Christian faith."
Or were Isaiah, Jesus, James and John all just kidding?
• For 10 years I worked at a daily newspaper using the AP Stylebook, and for most of that time I had a long-running argument with my boss's boss about the use of the term "illegal immigrant."
Now, almost two years after I got laid off, the Associated Press has announced that it will no longer use the term. I'd call the newsroom to gloat, but my boss's boss got laid off too and I don't think either of the people left in that newsroom has the time to answer a phone.
• Opt out.
Always
opt out: "Last year
consumers paid a whopping $32 billion in overdraft fees
, a $400 million jump from 2011."
Never give your bank permission to reach into your account and take your money. If you do, they will help themselves every chance they get. They took $32 billion from their depositors last year, and then had the chutzpah to call it a "service" and a form of "protection."
Explain to me how a decent person can steal $32 billion a year and then maybe I'll be persuaded that they might be decent people.
• I really, really, really hate the phrase "living in sin."
It's evangelical-speak for POSSLQ and few phrases reveal more about the stunted, unbiblical, sex-obsessed understanding of "sin" in American Christianity. Jamie Dimon is never described as "living in sin." Wayne LaPierre is never described as "living in sin." Unless and until that phrase comes to be employed to refer to people like that, it will always ring hollow — a meaningless phrase that signifies only the meaninglessness and hypocrisy of the subculture that produced it.
• Nothing says "pro-life" quite like sending death threats.
• Al Mohler laments "The Marginalization of Moral Argument in the Same-Sex Marriage Debate," because Al Mohler does not listen.
If he listened, he would understand that a demand for equality is a moral demand. If he listened, he would understand that moral argument hasn't been marginalized, it has been marshaled against him. There is a moral argument being made, forcefully and repeatedly, and it is an argument that demonstrates the immorality of Al Mohler and other defenders of inequality.
• "The race is not to the swift, nor the battle to the strong, neither yet bread to the wise, nor yet riches to men of understanding, nor yet favour to men of skill; but time and chance happeneth to them all."
• They are coming for your birth control.
• I'm really quite serious about the New Hampshire General Court. It ought to be somewhere around half its current size. That would save the state money, and it might help to weed out some of the most delusional whackjobs.