No, this isn't another one of those blog posts pondering how churches can entice young people back into the pews. (CNN had a good summary of that ongoing discussion last weekend featuring two of my favorite bloggers.)
I'm not talking here about "Millennials" — the generational cohort now reaching the stage of young adulthood  at which older cohorts start panicking over "kids these days." I'm talking about millennialism — the eschatological belief in a future utopia that tends to shape our behavior in the present.
"Eschatology" is the word theologians use to talk about "last things." What it means, really, is the question of how this story ends. We can't know what a story means unless we know how that story ends. "It all adds up to one thing," Rick tells Ilsa at the end of Casablanca. That line, and that ending of the story, wasn't written until shortly before it was filmed, after the half-dozen people credited with writing that story finally realized that was true. That's what "eschatology" is all about — trying to figure out what our story "all adds up to."
The idea of a utopian "millennium" — a thousand-year reign of perfect justice, is plucked from the apocalyptic book of Revelation. Apocalyptic literature is always concerned with how the story ends — imagining an ending to the story that vindicates the powerless whose story, here and now, always seems to end wrong.
The impulse driving apocalyptic literature can be seen in the protests of the young grandson played by Fred Savage in The Princess Bride:
GRANDSON: Grandpa, grandpa, wait. Wait, what did Fezzik mean "He's dead"? I mean, he didn't mean dead. Westley's only faking, right?

GRANDFATHER: You want me to read this or not?

GRANDSON: Who gets Humperdinck?

GRANDFATHER: I don't understand.

GRANDSON: Who kills Prince Humperdinck? At the end. Somebody's got to do it. Is it Inigo, who?

GRANDFATHER: Nobody. Nobody kills him. He lives.

GRANDSON: You mean he wins? Jesus, Grandpa, what did you read me this thing for?
The story — our story — seems to be headed toward an intolerable ending in which the powerful villain wins, the powerless are crushed and killed, and true love dies unfulfilled. That's unacceptable. That's unfair. Apocalyptic literature demands a better ending — a just ending.
That's what John's Apocalypse provides with the idea of a millennial reign.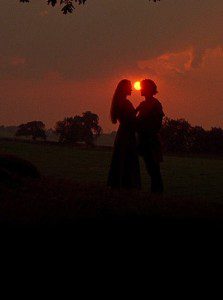 Millennialism is the idea, borrowed from John of Patmos, that this utopia of perfect justice is the ultimate ending to our story. This is the ending that tells us what our story means, the one thing that it all adds up to.
But there's more than one kind of millennialism because there's more than one idea about how this millennial utopia comes to be.
Broadly speaking, there have been two competing strains of Christian millennialism. One strain has been optimistic, seeing history as a long march toward ever greater justice, culminating some day in perfect, millennial justice. The other strain is more pessimistic, seeing history as a long downward spiral — a widening gyre in which the only hope for justice is a cataclysmic rewriting of the story by means of divine interruption. Somewhat confusingly, we refer to these two strains as post-millennial and pre-millennial. The post- and pre- there refer to the return of Jesus. In the post-millennial view, Jesus Christ will not return to reign in perfect justice until after we have established a closer approximation of that justice here on Earth. In the pre-millennial view, Jesus Christ will have to return before we have any hope of anything at all like justice here on Earth.
Postmillennial optimism was ascendant in 19th-century American Christianity, with its progressive ideology and its progressive influence seen in Christian involvement in movements for justice — from the abolition of slavery, to women's suffrage, to the intemperate abolition of alcohol advocated by the "temperance" movement. It's an audacious impulse — determined not just to mitigate injustice, but to abolish it. I know of no better illustration of post-millennial thinking than "The Battle Hymn of the Republic," with its insistence that we are "marching on," ever forward, toward an ever-more just world.
Premillennial pessimism gained the upper hand in the 20th century due partly to a change in theological perspective, but also due to the chastening realization that abolishing injustice was a lot harder than it seemed and that even our best attempts to create a more just world sometimes ended with disastrous unforeseen consequences.
The problem with these binary categories of post- and pre- is that they imply, misleadingly, that everyone must somehow fit into one category or the other. Most people don't. Most
Christians
don't. Most Christians, most of the time, are actually
a-
millennialist — a category that actual a-millennialists don't tend to think of as identifying themselves for the same reason that, say, most non-Trekkers don't primarily regard themselves as non-Trekkers.
For a-millennial Christians, the thousand years from John's apocalypse is still part of our vocabulary for how our story ends and for what our story means, but millennial eschatology isn't our primary or dominant way of thinking about or interacting with our world — whether it be the arrogant confidence of post-millennial optimism or the despair of pre-millennial pessimism.
"The arc of the universe is long," Dr. King said, "but it bends toward justice." That's eschatology. It gives our story meaning by asserting how that story will end. Note though that it doesn't fall on either side of that post- or pre-millennial divide. King did not say that we are inexorably bending the arc toward justice. Nor was he suggesting that we can only sit by idly awaiting divine intervention to do so. For King, a just ending to the story was God's aim and ought therefore also to be our aim, and we should be working together with God in this very long story.
All of this was prompted by this depressingly unremarkable story of racial harassment by the police: "Indiana police threaten to Taser black firefighter in the face for waving at them."
George Madison Jr. is one of Evansville's bravest, and when he saw some of Evansville's finest drive by, he waved to them as a comrade, as a fellow public servant. But the white cops didn't see a comrade, they only saw a black man on a bike gesturing at them. They took this as an opportunity to do what they apparently were looking for an opportunity to do, and in lieu of doing their duty, they instead decided to pull Madison over, throwing him to the ground, cuffing him and threatening him with a Taser.
The local news station spoke with the leader of the local NAACP, and this is where eschatology enters the story:
Evansville NAACP President Rev. Gerald Arnold told WTVW that he was "not in shock because it does happen."

"Some things are not going to change until Jesus comes," Arnold pointed out. "You're always going to have that one bad apple unfortunately."
This is what the pessimism of pre-millennialism sounds like when it filters down into every-day life. The Rev. Arnold's sardonic take on this incident isn't surprising. His pessimism is eminently reasonable — based on years and years of evidence suggesting that whatever bending there may be in the supposed arc of the universe is imperceptible at best.
But Arnold's comment also illustrates how a pre-millennial eschatology feeds a sense of impotence, suggesting that the way it is is the way it must be and cannot be changed short of miraculous intervention in history. What are you gonna do? Humperdinck is the prince, after all, he's in charge.
If we have to view the world through a millennialist lens, this is why I prefer the vision of post-millennialism.
Don't get me wrong — I think post-millennialism is a flawed theology. I'm a big fan of Reinhold Niebuhr, after all, whose great theological project was to challenge and chastise the arrogance of post-millennial optimism. But if the Second Coming of Jesus is going to influence how Christians respond to injustice, I don't want to hear us saying that "Some things are not going to change until Jesus comes."
If that's the only other option, then I'd prefer the post-millennial view: "Jesus isn't going to come until some things change."
Injustice is not how our story ends. We are characters in our own story. We have agency in it. And we need to play our part, to work toward an acceptable ending to the story — one that doesn't make us cry out, in protest, "Jesus, Grandpa, what did you read me this thing for?"
Crystal St. Marie Lewis put this very well in her reflection on eschatology following the Zimmerman verdict (ellipsis original):
As I sat on the floor in front of the television set with my eyes closed, listening to the jurors' individual affirmations of their "not guilty" votes, I wished with every fiber of my being for the intervention of some loophole in the legal system, of the judge on television … or even of God. I wished for an intervention that would right the wrongs of my society and the suffering experienced in the rest of the world.

In that moment, I understood the desire to escape, but reminded myself of my responsibility to remain as present as possible. I understood the desire for God's intervention, but also understood that it is my responsibility to intervene constructively. I reminded myself that the intervention of God requires the cooperation of humans … I remembered that the tools for changing the world have been entrusted to me.

I fought the urge to escape our society and the urge to wait patiently for divine intervention. … And then I prayed for clarity on what I might do to help change the world.
Glory, glory, hallelujah.