1. The best news first: The doctors are immensely pleased and the Slacktivixen (my wife) is resting comfortably after a minor bit of unexpected surgery yesterday afternoon. All shall be well and all shall be well.
2. Florida, Texas and North Carolina show no signs of letting up, but I have to say that Iowa is making itself a contender in the States Gone Wild sweepstakes with this strong effort: "In Iowa, Blind People Can Carry Guns in Public."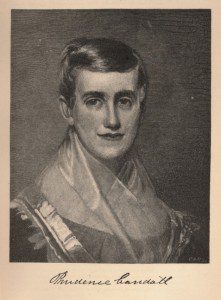 3. Richard Beck shared this, from Thomas Merton: "Your life is shaped by the ends you live for. You are made in the image of what you desire."
Which reminded me of this, from Kurt Vonnegut: "We are what we pretend to be, so we must be careful about what we pretend to be."
I'm less intrigued here by the parallel between Merton and Vonnegut than I am by the parallel between desire and pretense. Hmmm.
4. Marriage equality advocates in Hawaii say they've got the votes, and Gov. Neil Abercrombie has announced a special session of the state's legislature for next month to get it done this year.
5. Jeff Sharlet's new essay at Killing the Buddha — "Ditto Boys" — reads a bit like a DVD-extra deleted scene from his 2008 book, The Family: The Secret Fundamentalism at the Heart of American Power. But where the tone of that book was journalistic, this has a creepier edge to it and ends with an almost Lovecraftian twist. Here's a bit from the middle:
Mullen's impression was reinforced by her students, several of whom came to her upset by Fellowship experiences. One girl had been invited by the wife of a Westmont administrator to Washington over a break with the promise of a vacation, only to find herself serving as a maid at the Fellowship's headquarters, a mansion called The Cedars at the end of a cul-de-sac in Arlington, Virginia. Then she heard of other young woman returning from Washington, disturbed and confused by their assignments: dusting, mopping, acting "feminine." Her students came to her not to complain but to make sense of what had happened, to ask a woman in a position of authority whether it was true that they should resign themselves to "service." Not Christian service; serving men.
Read the whole thing, then just consider this idea: American Horror Story, Season 4: The Cedars.
6. "Batman resuscitates cat he saved from burning building." Captain America helped.
7. That Kierkegaard post the other day had me looking more closely at the calendar of saints days and feast days in the Episcopal Church. I failed to celebrate the feast day of Prudence Crandall last Tuesday. That's a shame, because Prudence Crandall is pretty awesome:
I said in my heart, here are my convictions. What shall I do? Shall I be inactive and permit prejudice, the mother of abominations, to remain undisturbed? Or shall I venture to enlist in the ranks of those who with the Sword of Truth dare hold combat with prevailing iniquity? I contemplated for a while the manner in which I might best serve the people of color. As wealth was not mine, I saw no other means of benefiting them, than by imparting to those of my own sex that were anxious to learn, all the instruction I might be able to give, however small the amount.