To anyone who watched all of The Missing Christians in the previous post, I again apologize. You didn't deserve to have that happen to you. I'm sorry.
To make it up to you, here's another version of the hymn that "movie" closes with. This is Alessandro Nivola singing that song (along with John Eddie McGee and Gregory Wagoner) in Junebug — a movie that is as pitch perfect as The Missing Christians is tone-deaf:
Even if you've never seen Junebug, you can probably tell there's a lot going on in that scene.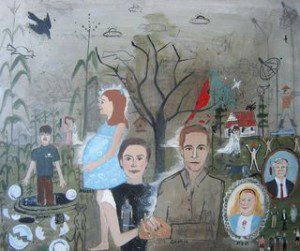 And even if you have no idea who these characters are you can almost infer the whole movie there from watching Embeth Davidtz, Amy Adams, Celia Watson, Ben McKenzie, Scott Wilson and the rest as they watch Nivola sing. You can see almost all you need to know about George and his family, his relationship to his brother Johnny and to the church, community and faith of his youth.
All of which is to say that if you've never seen Junebug, you need to correct that.
The plot of this movie is easy to summarize — the older son who moved off to the city up North returns home with his city wife to visit his family. But it's much harder to say what it's about. I think maybe, in part, it's about the possibility and impossibility of ever knowing another person. It's about family and faith, North and South, insiders and outsiders, roots to be tended and chains to be broken.
I dunno — you tell me what it's about.
Here's one more, much sloppier, rendition of "Softly and Tenderly" — this one by the "Million Dollar Quartet" of Elvis, Jerry Lee, Johnny and Carl.
You get the sense that they did this song because they all knew it, and that they all knew that all the others would know it.
Alessandro Nivola's "George" is a bit of a cipher in Junebug. As Roger Ebert wrote, "George behaves as he knows he should but remains enigmatic; we don't find out what he really thinks about his family until the movie's last line, if then."
But when the pastor asked George to sing, he said, "I think I'm gonna need the book." Eddie and his son didn't need the book. Neither did George's family as they mouthed the words along with him. And neither did Elvis or Jerry Lee.
So my guess is we can trust that last line in the movie. Maybe.