• Credit where credit is due — "Chick Fil-A to (Eventually) Stop Using Antibiotic-Filled Chicken": "In a move that could (hopefully) have a positive ripple effect on the rest of the fast food industry, Chick fil-A announced today that it will phase out the use of chickens raised using medically unnecessary antibiotics over the next five years."
• This is not what they mean by "networking."
• Mallory Ortberg mourns the death of a holy fool. "Love Jesus and keep it simple," Leonard Knight said. He was not wrong.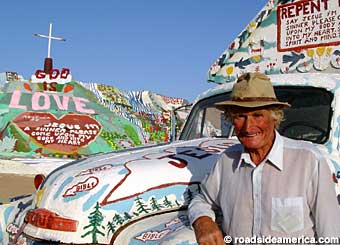 • During our recent string of snow, snow, ice, and more snow, Pennsylvania formally declared a "state of emergency." That meant, among other things, that the state's "price-gouging laws" were put into effect.
So … what then? I guess price-gouging is legal when it's not snowing? It's perfectly fine to rip off desperate people just as long as it's a nice day outside? That seems wrong.
• I am glad no one was injured when a giant 40-foot sinkhole opened beneath the National Corvette Museum last week, swallowing eight vintage cars at the Bowling Green museum.
It would be fun to witness the theological speculation that might accompany such an event if something similar were to happen at
another
Kentucky museum not far from there. A sinkhole in the karst region near Mammoth Cave is not in any way an indication of supernatural divine intervention, but if such a sinkhole were to swallow up eight fiberglass dinosaurs or a replica of Noah's Ark … well, John Piper's Twitter feed might be briefly interesting.
• "Sorry folks. The Song of Solomon doesn't teach that. I may not be 100-percent sure what it does teach, but I know without a doubt that's not it."
• This piece from The Onion is funny because no one will ever, ever say this — not even if you're wearing your coolest, edgiest witnessing-tool Christian T-shirt: "Hello, Do You Have A Moment To Tell Me About Jesus Christ?"
• I learned, belatedly, from Emily Graslie, that Saturday was World Pangolin Day. I suppose that's why so many schools and businesses are closed today — as they should be, because pangolins are awesome: