Browsing about looking for an article from earlier this year, I came across this disturbing headline from Christianity Today: "Parents Sentenced to Prison for Belief in Healing Power of Prayer."
That sounds like a terrible miscarriage of justice. That sounds like clear evidence that the persecution of Christians here in Obama's America is more than just a delusional self-aggrandizing fantasy.
Believers are being sent off to prison. Good Christian people are being jailed just because of their "beliefs." And what is this belief that's now a thought-crime? Simply the wholesome, traditional belief in the "power of prayer."
Of course, the evil, liberal secular media won't tell it to you straight like that, though. Just look at how some other so-called journalists reported the same sentencing:
• "Prison terms for Schaibles after second son's death," reads the headline from The Philadelphia Inquirer.
• "Philadelphia Parents Herbert, Catherine Scheible Sentenced in Son's 'Prayer Death'" says the local "Action News" report from WPVI/6-ABC Philadelphia.
• "Faith-Healing Parents Get Up to 7 Years for Infant Son's Death," reported the local NBC affiliate.
• "Prison for Phila. Couple Who Chose Prayer Over Medical Care for Dying Son" said the local CBS station.
• "Faith-Healing Parents Jailed After Second Child's Death," said TIME magazine.
• "Pennsylvania parents sentenced in second faith-healing death," Religion News Service said.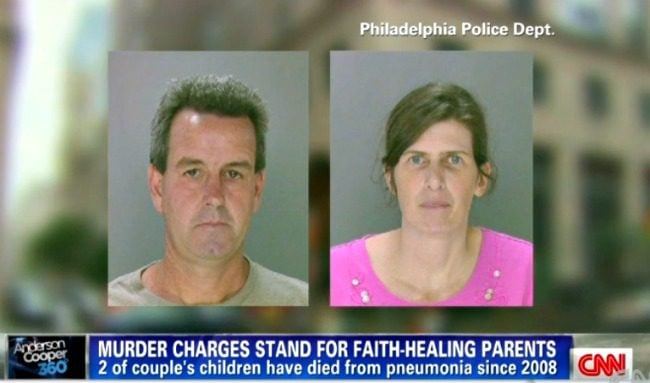 All of those liberal media outlets parrot the official story — that the parents' negligence in the preventable deaths of their two sons was the reason for their arrest and imprisonment, rather than just a smokescreen for the general persecution of all Christians all over this once-free nation. All of those other headlines spin this story as though a couple of dead children were the real victims here, rather than us — the real, true prayerful believers.
Christianity Today's coverage of this story also distinguished itself from the other reports by emphasizing that the couple's 3-to-7-year prison sentences were "one of the harshest punishments for faith healing." I don't think that's true. A 7-year sentence isn't nearly as harsh as the punishment this couple inflicted on their two late sons.
This story is several months old, but it's worth revisiting, I think, because it illustrates part of the mentality that led to the whole recent Leadership Journal debacle. When you're busily trying to pretend that you're persecuted and victimized for your righteousness, you're never going to be able to see, let alone care about, actual victims.