The Sunday afternoon links have landed, including: Furry, cotton-tailed Marxists; why biblical genealogies aren't as boring as they seem; a Klosely-held Kristian Korporation seeks its religious liberty; you wouldn't like him when he's angry; plus a bit of the old houghmagandy.
• Global warming is a Marxist conspiracy says Republican Sen. James Inhofe, and Republican Rep. Louis Gohmert, and Republican Sen. Ted Cruz. But they don't appreciate how vast and huge the conspiracy really is. Even the snowshoe hares are in on it. Those little Marxist, secular-humanist bastards.
• This photograph was taken by photojournalist Buzz Aldrin 45 years ago. That guy really would do whatever it takes to get the shot: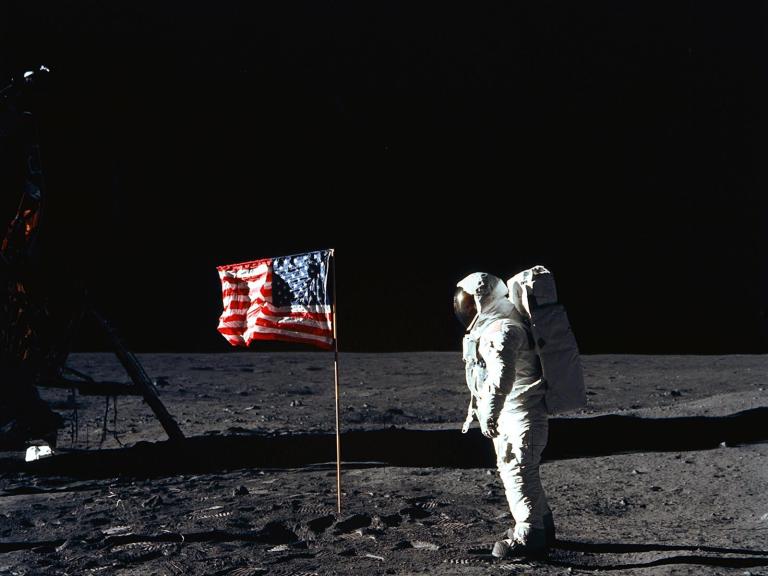 • If an all-volunteer military decreases the sense of shared sacrifice and thereby increases the likelihood of war, Doctor Science says, then "Don't bring back the draft, bring back war taxes." Yes.
• The Gospel of Matthew provides a genealogy of Jesus. So does the Gospel of Luke. These genealogies are not the same. They cannot be harmonized or reconciled — either with one another or with the many other, earlier genealogies elsewhere in the Bible. Plus they really don't fit well with the general timeline of the story of Israel throughout the Hebrew scriptures.
This largely escapes notice and discussion because genealogies are boring. Good little evangelicals taught to believe in Chicago Inerrancy are spared from a traumatic crisis of faith mainly because their eyes glaze over somewhere around the fifth or sixth "begat."
Anyway, here's Paul Davidson on everything you missed about Matthew's genealogy because you stopped paying attention before you even got to Aminadab. You probably won't believe me when I tell you it's fascinating stuff, but it is.
• "He claims that he's being persecuted for his religious beliefs. 'We are a conservative Christian group,' he says. 'My rights were infringed upon.'"
• I'd never encountered the terms "fadoodling" or "pogue the hone" or "ride below the crupper," but even centuries after their currency, it's difficult to imagine a context for their use in which their meaning wouldn't come across.
• You have a plutocracy? We have a Hulk.